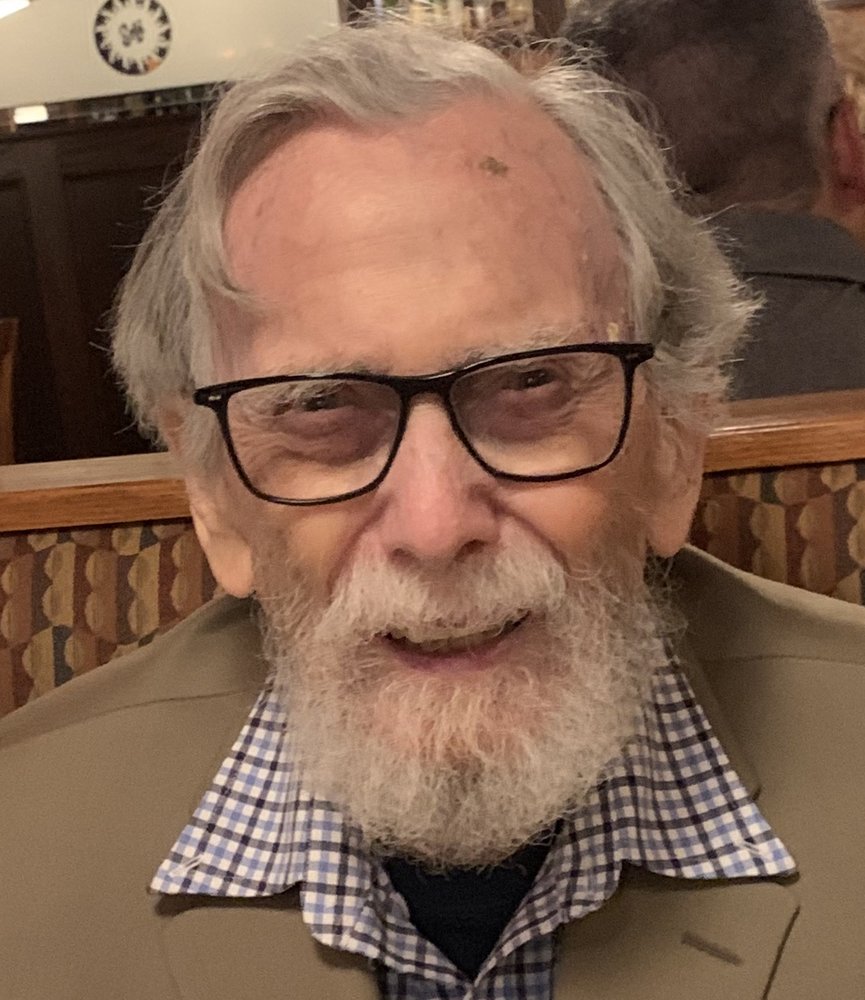 Obituary of Thomas Morris Fraser
Thomas Morris Fraser passed peacefully, after a short illness, at Lisaard Hospice in Cambridge, Ontario, on December 31, 2019, in his 98th year. He was predeceased by his wife, Joan Doone (Underhill). He leaves his son, Peter John with his wife, Elizabeth (Keller) of Baden; his son, Niall Morris and his partner, Barb Berg of Waterloo; and his daughter, Kathryn Fraser Carpenter of Louisville, Kentucky. He also leaves nine grandchildren and seven great-grandchildren: Gwendolyn, husband Mark and children Eloise and Declan (Australia); Diana, fiancé Mark (Toronto); RuthAnne, husband Marcus (Meaford); Rob, wife Angie, children Rilla and Lucy (Michigan); Ellen, husband Chris, child Calder (New York); Oona, partner Roland (Toronto); Angus, wife Kendall, children Elliot and Bryn (Waterloo); Tom (Ottawa); and Adam and his partner Steph (Owen Sound). All will miss him greatly. Born in 1922, in Edinburgh, Scotland, Morris entered the medical school of the University of Edinburgh in 1939, graduating as a medical doctor in 1944. Since it was wartime he joined the RAF, serving initially on bomber units in England before being transferred to the Far East to work in RAF hospitals and other units in Pakistan, India, Singapore, Saigon, and Hong Kong, where he had the fortune to meet his future wife, an RAF nurse, whom he married in Singapore six months later, in 1947. In 1948 they returned to England, where Morris entered general practice in London. General practice in post-war England was very unsatisfying after the RAF, and so after much consideration he joined the RCAF and immigrated to Canada in 1952, now with three small children. He served in the RCAF in various capacities for 10 years. During that period, he acquired further specialized education, leading to certification as a medical specialist in aerospace and occupational medicine in the U.S. and Canada, and also, after further study later, qualification as a professional engineer. He ended his RCAF career as Officer Commanding the RCAF School of Aerospace Medicine in Toronto, before resigning in 1962 to accept a post with NASA as a research scientist in an aerospace institution in Albuquerque , New Mexico, working on the Apollo moon landing project among others, and consulting to the aerospace industry. As funding dwindled after the moon landing, he accepted a post in 1967 to join the Faculty of Engineering at the University of Waterloo as co-founder of the new and innovative Department of Systems Design Engineering where he served for 20 years as Full Professor, including twice as Chair, developing the program and introducing ergonomics, industrial hygiene, and other innovations into the engineering curriculum. He also completed tours in Europe with the International Labour Office of the United Nations in Geneva and in an engineering school in Marseilles, France. During his tenure he published numerous academic papers, presented at academic conferences, and served as member or chair of various Federal and Provincial committees. Retirement in 1987 took him and his wife Joan to Niagara-on-the-Lake where he continued with private consultation in the U.S. and Canada, while publishing six technical and professional books. A stroke caught up with him, however, and in 2000 they returned to Waterloo and became residents in Luther Village. Sadly, however, after providing much love and support throughout a diverse but exciting life, his wife, Joan, died in 2011. He continued to live in his own apartment in Luther Village until Christmas Eve, when a fall sent him to hospital a week before he passed. The family want to express their appreciation to Ann Gray and her staff at Home Instead for their loving care and support of Morris for over eight years. Morris was passionate about travel, dogs and theology. He was loved and respected by his colleagues, students and friends, most of whom he outlived. The funeral will be private. Anyone who wishes to mark his passing is invited to give a donation in his name to World Vision or Covenant House, his favorite charities. This can be arranged through the Erb & Good Family Funeral Home, 171 King St. S., Waterloo, www.erbgood.com or 519-745-8445.
Funeral Information
A private family service will be held.