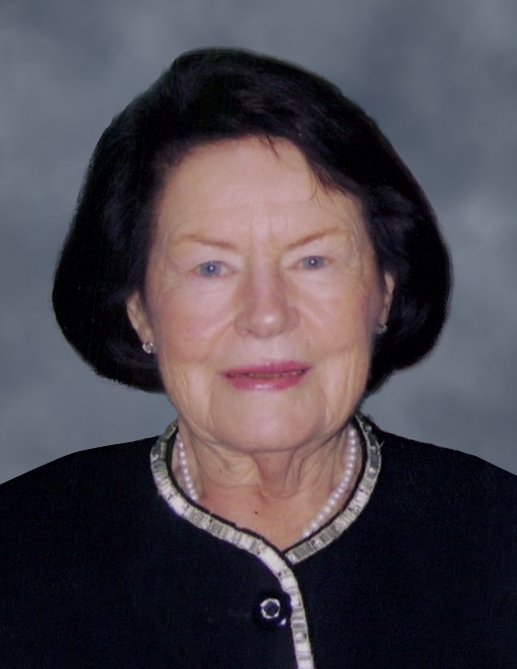 Share Your Memory of
Patricia
Obituary of Patricia Alice Bauer
To watch the live-stream of the Funeral Mass on Friday, March 5 at 11:00 am, click here.
To join the Bauer family in the live-streamed Reception honouring Patsy's life on Friday, March 5th at 7:00 pm, please join by clicking here.
Bauer, Patricia Alice (Schnurr)
April 11, 1926 – February 26, 2021.
Patricia made the transition to new life on Feb 26, 2021, in her 95th year. Patsy, as she was affectionately called, was born to Gertrude and Joseph Schnurr. Patsy had a long and full life.
Patsy was a Kitchener-Waterloo girl through and through. She grew up in the backyard of Victoria Park and went to St. Mary's High School. She trained to be a nurse at St. Mary's Hospital, Kitchener, and at St Michael's, Toronto. Patsy was a Registered Nurse and was so proud to be top in her class. Her warm bedside manner carried her through life in the spirit of giving, caring, and a healthy dose of tough love.
Patsy married Raymond Aloysius Bauer in June of 1949 and celebrated 52 years of marriage. Together they had a family of ten children. That family grew to thirty-five grandchildren and eight great grandchildren. In 1991, in recognition of her charitable works Patsy was a recipient of the Papal Knighthood in the Equestrian Order of the Knights of the Holy Sepulchre. She was fondly named "Lady Patricia". She was a lifelong member of St. Louis RC Church in Waterloo.
She lived in the moment and was very present to all around her. Her greatest gift to all of us was her love of her family and her ability to find humour in all situations. Mom was the heart of our family and some would say the rock. She gave her children many opportunities to pursue activities in sport, music and education. Mom possessed an inner strength that is a constant source of inspiration for each of us. We will miss her generosity and fun-loving spirit.
Patsy and Ray were blessed with many happy memories spent at Union Street, Sunset Beach and Sunset Cliff. Bayfield was a special place with wonderful memories where mom would be the first and last one in the lake each year. We spent many summers sharing meals and the most beautiful sunsets in the world overlooking Lake Huron. We had many gatherings, sock hops, weddings, pig roasts and New Year's parties. Patsy was always the life of the party and most welcoming to her family and friends. We will miss her generosity and fun-loving spirit.
She is predeceased by her husband Raymond A. J. Bauer (2001) and daughter Barbara Bauer-Maison (2005). Mother of Brenda (Pat), Toronto, Carol (Neil), St. George, Maureen (David), Perth, Raymond E. Bauer, Bayfield, Marianne (Brian), Cambridge, Lisa (Frank), Waterloo, E.J. Bauer (Lynn), Bayfield, Peter (Kathleen), Waterloo and Brian (Holly), Waterloo, son-in-law Marc Bauer-Maison of Stratford. Patricia is lovingly remembered by her thirty-five grandchildren and eight great-grandchildren. Paul (Jessica), Kristen (Ryan), Naomi, Elisha, Natasha, Michael, Alanna (Dillen), Tatyana, Matt (Cate), Dan (Kristine), Kevin, Connor, Peter, Martha, Dave (Katie), Jon, Mike, Stephen, Rob, Paul, Maria, Brianna, Jasmine, Phil, Joseph, Basil, Grace, David, Shannon, Brendan, Erin, Jessie, Ben, Brooke, and Riley.
Patsy is predeceased by her brothers Robert (Jean) Schnurr, Jim (Vivian) Schnurr, Betty Ann (Dr. William) Young, and Joseph Schnurr. Survived by sister-in-law Ellie (Bob) Mueller. She is predeceased by Frank (Barbara) Bauer, Bob Bauer (Margaret), Eugene (Sally) Bauer, Jerome (Harriet) Bauer, Fr. David Bauer, Alice (Cecil) Schmalz, Mary (Edward) Freiburger, Rita (Jim) Huck, Therese Dillon and Joseph Laudenbach. Survived by Tom Dillon, and Margaret Laudenbach.
A thank you to Mom's very special caregivers from years past: Raz, Tess, Tricia and June. Dr. Irwin, Dr. Gartner and Dr. Milligan took Patsy under their care. The family would like to thank them for their kindness given to Patsy while living at home and in the Village at University Gates. A special thank you to Shelley and all the nurses and personal care workers and staff at the Village at University Gates, Wright Neighbourhood. Thank you to Fr. Sam Restivo for supporting and comforting our "Patsy" through her last months.
As expressions of sympathy the family would appreciate donations to her special charities, Carmel of St. Joseph, St. Mary's General Hospital Foundation, St. Louis Parish and Pioneer Park Association, Bayfield. Donations can be made through the funeral home at www.erbgood.com or by calling the Erb & Good Family Funeral Home, 171 King Street S., Waterloo at 519.745.8445.
The Bauer Family will privately celebrate the Mass of Christian Burial on Friday March 5th at 11:00 am. Family and friends are invited to join the live-stream and recording of the private celebration by going to Patsy's tribute page at www.erbgood.com
In addition to the funeral services held on line, the family will be hosting a live-streamed reception on March 5th at 7 PM in honour of Patsy. This will be a
separate event from the Funeral Mass held earlier in the day. At the reception, people will be able to communicate with each other through an unique zoom platform. Everyone is welcome to attend by registering in advance. A link will be sent once you have registered. To register go to www.bit.ly/pbauerzoom or through the link found on Patsy's tribute page.
Private Funeral Mass
Live-stream link is available at the top of Patsy's tribute page.
Interment
Mount Hope Cemetery