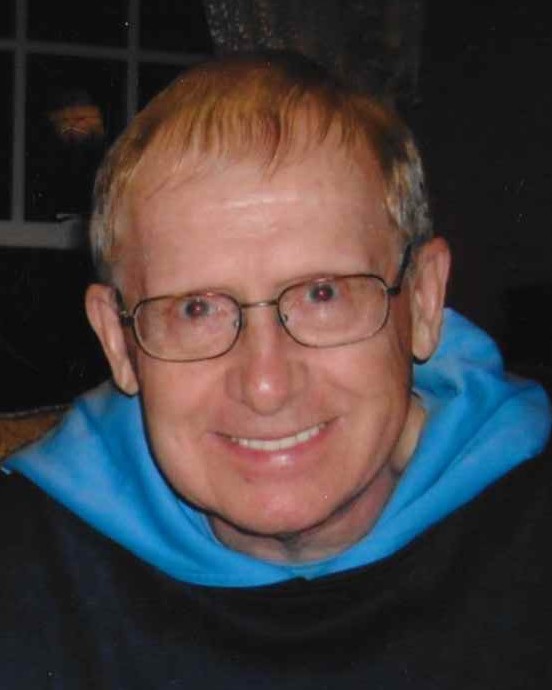 Share Your Memory of
Peter


Obituary of Peter Edward Dembski
May 8 th, 1938 - March 7 th, 2021
Born: Queens Village, New York, USA
Died: Kitchener, Ontario, Canada
Peter Dembski passed away very peacefully at Freeport Palliative Care on Sunday March 7th, 2021. He had been suffering from normal pressure hydrocephalus for some time. He is survived by his wife Julie, son Chad (girlfriend Fran Patterson), nieces Jeannine Ouellette, Lauren Dembski, and Christy Dumas, nephews Michael Wright and Jordan Wright, Goddaughter Teresa Sweeney, Sister-in-law Connie Wright, and former Sister-in-law Debbie Dembski. He was predeceased by son Damian (1965-1975) and brother Ken Dembski (1935-2010).
Peter loved teaching, primarily Canadian history, first at St. Jerome's College from 1964-1974, then as a part time instructor at WLU continuing education from 1977 to 1996. He was additionally a sessional professor at Guelph University (1987-1995), McGill University (1982), University of Western (1990-1992), University of Saskatchewan (1991-1993), and University of Waterloo (2000-2002). He received his B.A in 1961 and M.A. in 1962 both from the University of Toronto where he also served as student council president in 1960-61. He was also a member of the U. of T. debate team where he famously debated once in front of John F. Kennedy Jr.
He was a writer with published articles in Ontario History, Dictionary of Canadian Biography and Journal of Canadian Studies. He published his extensively researched book "Travels and Identities - Elizabeth and Adam Shortt in Europe, 1911" with WLU press in 2017. Additionally, he wrote book reviews for the Catholic New Times over many years and topics.
He was an avid sports fan through many sports, he was a season ticket holder for the Detroit Tigers from 1968 to 1999, the Toronto Argo's from 2000-2012, Kitchener Rangers 2012-2016 and most recently the Laurier Golden Hawks basketball team 2016-2020. His son Chad and him were each other's favourite person to attend sporting events with, they always looked forward to each football, basketball, and hockey game they attended together from 1980 to 2018. He made many friends at these various sporting events and especially loved supporting Canadian College Sports in Waterloo and across Ontario.
Peter was an avid activist, involved with many causes over his life including the anti-nuclear arms movement and poverty rights. He was a proud member of the Alliance Against Poverty in KW and served with them as long as he could. He subscribed to The Catholic Worker and deeply believed in their work along with The Little Brothers who remained in contact with him his entire life.
His gentle, mirthful good company will be missed by all those who were privileged to know him. He was extremely supportive to his son's Chad artistic career, from his first days at the K-W Little Theatre to attending many of his performances in Toronto, Kitchener and Montreal. His son could not have asked for a more loving, thoughtful and caring parent to have beside him in his artistic adventures.
Peter was also an avid fan of food; always looking forward to his special once a month outings with his wife Julie. Restaurants such as the Sultan's Tent (Toronto), The Britany (Waterloo, New Hamburg), Benjamin's (St. Jacob's), Sole (Waterloo) and most recently Timeless Cafe (Waterloo). These very special restaurants brought an immense amount of joy to Peter and Julie with exceptional food, wine and live music.
The family would like to express their gratitude to family, friends and 9 Lodge St. neighbours for being very caring, and supportive. To their family doctor Dr. Jordache McLeod, who provided exceptional care to Peter. Also, to all the staff at Freeport Hospital Palliative Care East Court for bringing Peter light and peace in his final days.
There will be no formal funeral. There will be a short prayer for Peter at the weekday Mass at 9am at St. Louis Church on Friday March 19th. There will be an online memorial for Peter on Sunday March 21st at 1pm, for information please visit www.erbgood.com.
If you wish to donate in Peter Dembski's name, donations to The Working Centre in Kitchener would be appreciated and may be arranged by contacting the Erb & Good Family Funeral Home, 171 King St. S., Waterloo at www.erbgood.com or 519-745-8445.
Online Memorial via Zoom
1:00 pm
Sunday, March 21, 2021
via Zoom
171 King St. S.
Waterloo, Ontario, Canada
To participate in the Zoom Memorial please see link below. https://zoom.us/j/97773801946

Get Directions