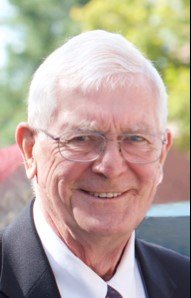 Obituary of Roger Green
The University of Waterloo remembers Professor Emeritus Roger Green please click here
ROGER GREEN
(June 10, 1934 - August 11, 2021)
Roger died peacefully at home in Waterloo. Professor Emeritus at the University of Waterloo, Roger taught in the Civil Engineering Department. Lovingly remembered by his wife of 57 years Connie and their daughters Martha (David Hemphill) and Elizabeth (Alain Proulx). Proud Grandpa of Jackson, Emma, Katie, Matthew and Ally. Born in England, Roger is predeceased by his parents Edith and Leonard and his brother Michael.
In 1955 after receiving his engineering degree from University College, London, Roger came to Canada. He had a teaching assistant position and completed his MSc in Civil Engineering at Queen's University in Kingston in 1958. After working in industry and then working as a Lecturer at the University of Waterloo, Roger completed a MSc in Applied Maths in 1962. With the assistance of the Ford Foundation Fellowship, he completed his PhD at the University of Texas at Austin. Roger joined the faculty at the University of Waterloo as an Assistant Professor in 1965.
Roger was an educator who lived and breathed engineering. He loved bridge structures and the geotechnical aspects surrounding them. One of his greatest pleasures was hearing from former students and celebrating their achievements.
He was a proud Canadian and valued his English family and his Canadian family. Roger loved to travel, meet new people and share stories over a cup of coffee whether at Donuts Plus, during his teaching years, or at Starbucks, during his retirement. He took great pride in the accomplishments of his daughters, sons-in-law and grandchildren.
Thank you for your friendship and kindness. We would so love to hear your stories and to reminisce together about Roger and his quick-witted English sense of humour. In order to keep everyone safe at this time, please take a moment to celebrate Roger's life in your own way. Perhaps the next time you are in Starbucks raise your cup or the next time you travel under a bridge check out the cracks, and think of Roger and how lucky we were to have him in our lives.
A family service will be held to celebrate his life on Saturday morning, August 21, 2021 at All Saints' Anglican Church. So, you may share in our memories, a video of our favourite photos will be available on the Erb and Good website.
In place of floral tributes, contributions to the University of Waterloo Civil Engineering Department to support Civil Engineering Students www.uwaterloo.ca/support/ or donations to the Canadian Red Cross British Columbia Fire Fund would be appreciated by Roger and his family. Please contact the funeral home at 519-745-8445 or www.erbgood.com for donation assistance.


Share Your Memory of
Roger