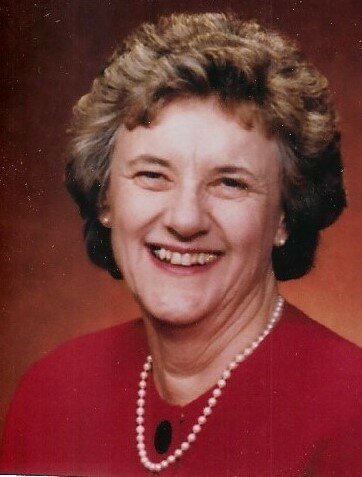 An Anglican Church service and celebration-of-life will be held on a later date


Obituary of Sheila Mary MacDonald
Waterloo, ON – Sheila Mary (Adamson) MacDonald, in her 98th year, devoted wife, loving mother, grandmother, great-grandmother, and friend to many, Master of Social Work (Wilfred Laurier University) and a retired Medical & Clinical Social Worker (KW Hospital), passed away, peacefully, at Innisfree House in Kitchener.
Born in Edmonton, Alberta, Canada on Christmas Day in 1923, she grew up from age six to adulthood in Oak Bay (Victoria), British Columbia. She was the second daughter of William Adamson (1889-1977) & Dorothy Rachel (Wilkes) Adamson (1895 – 1983) and sister of Penelope Rachel, known as Ray, (Adamson) Armstrong (1919-1993) and sister-in-law to Ray's husband John Armstrong (1919-2000).
She had the good fortune to have had an idyllic childhood in Victoria – sailing and row-boating, swimming, playing field hockey, and picnicking with her school friends on the nearby beaches and islands while also attending and graduating from Monterey Public and Oak Bay High School in 1941. Many of her school friends were lifetime friends – sadly, they have all passed on ahead of her. Sheila was well-aware of her good fortune, despite the challenges of growing up during the Great Depression. Fortunately, her father was able to provide for his family when so many others struggled during the Great Depression.
Her idyllic, carefree, childhood ended when Germany invaded Poland in 1939 and, more so, when the Japanese bombed Pearl Harbor in 1941.
World War II changed the course of her life, and it was most notable when she would visit the Oak Bay Cenotaph where she would remark upon knowing of every "boy" whose names were engraved upon that marker – all Oak Bay school mates of hers. She knew and understood the sacrifices made and the price that was paid. She grew up with her three first cousins whom she thought of as brothers. Alastair, John, and Fraser Shepherd – young men who volunteered for service in WWII. Alastair was killed-in-action during the Canadian Army's liberation of Holland. John served as an RAF fighter pilot (Hurricanes) and was killed-in-action during the Battle of France early in the war as Germany marched through the low countries and into France. Fraser was wounded-in-action, in France and barely survived his wounds, spending the rest of his life with a bullet in his chest.
Looking back upon the war years (1939-1945), she would reflect upon the oft-forgotten aspects of growing up along the West Coast and the constant fear of invasion by the Japanese. With the passage of history and the ability to know more about the strategies of the Japanese military, the threat turned out to be not as imminent as was believed at the time, but who was to know? Her father was a volunteer navy patrol officer and had been appointed to make daily observations from his recreational boat and report to Canada's military authorities about all watercraft that were new, unrecognized, and/or unknown to the local waters. He commented, in later years, that it was a worry when seeing certain fishing boats, owned, and operated by Japanese/Canadians, which were sporting a vast array of very modern, high frequency, radio equipment with very tall antennas. War time makes everyone suspicious of any activity that doesn't seem right.
Like many members of her generation, "The Greatest Generation", she'd grown up as the child of a WWI veteran during the Great Depression and lived through WWII. She understood the value of life and liberty and the cost it took to preserve it…for now. To her last days she closely followed the news and could speak knowledgeably of current events. If asked, she never hesitated to tell you what she thought of certain politicians plus department heads, bureaucrats, and global leaders and their decisions…or lack thereof…and, sometimes she'd tell you what she thought of those politicians even if you didn't ask.
She greatly admired Sir Winston Churchill and read many, many, biographies about Churchill, including wading through many of the Martin Gilbert tomes about Churchill. In her last days, her grandson Michael read aloud to her from her collection of books about Churchill, correcting his pronunciation of French phrases. She also thought highly of Franklin D. Roosevelt (although she didn't think much of his personal peccadilloes!). She thought little of Edward VIII and Wallace Simpson. She respected King George VI and adored Queen Elizabeth II and, Elizabeth, The Queen Mother, but not so much the rest of the Royal's and their antics. She loved royal pageantry and she insisted that her children listen to the Queen's speech on Christmas Day.
During the WWII years, Sheila attended Victoria College in Craigdarroch Castle, and then opted to become a student nurse at the Royal Jubilee Hospital in Victoria. In early 1945, she met a sailor at a local dance, who would become her husband of 62+ years and father of her three children, William (Bill) F. MacDonald (1923 – 2009) of Galt, ON. Bill had volunteered with the Royal Canadian Navy and served aboard the HMCS Dunver (a River Class Frigate – U Boat hunter) during the Battle of the Atlantic. The Dunver was subsequently directed to transit the Panama Canal to the Pacific Ocean in preparation for the pending invasion of the Japanese Islands and docked at the Nanaimo naval base to be refitted and upgraded. Bill was granted shore leave and that's when he met Sheila, at a dance at Shawnigan Lake.
Like many successful marriages, it was love at first sight and their courtship was short. They knew they'd found their soulmates and they wanted to marry! Much of their courtship was through letters because Bill's life was still under the command of His Majesty's Royal Canadian Navy, and he was sent back home to Galt when the war ended in August of 1945. They married on December 14th, 1946.
One year, to-the-day, their first born, David Fraser MacDonald arrived, followed by their daughter Sheila JOAN MacDonald (1950) and in 1955 their youngest son William BRUCE MacDonald.
Sheila was a stay-at-home mother in the 1950's and 60's, as was very common during the post war era…very much a "Leave-it-to-Beaver" style of household.
Sheila was active in the Women's Altar Guild of Trinity Church in Galt and the church choir. She was a board member of the Bishop's Ball Committee for a large and successful gala and fund raiser for the Anglican Diocese.
She enjoyed tennis and badminton. She was a competitive badminton player with the Granite Club of Waterloo and enjoyed the social activities and friendships that developed because of her membership in the club.
As David and Joan left home to attend university, and with Bruce in high school and attending summer camp, Sheila became restless to begin a career of her own. She began attending classes at Wilfred Laurier University, earning her bachelor's degree in Sociology. She enjoyed university so much that she continued her studies and earned her Master's in Social Work degree and began work as a Medical & Clinical Social Worker at Kitchener-Waterloo Hospital. She worked with a wide range of patients, including juveniles and the court system, doing her part to support vulnerable young people. In addition, she worked with many patients who were coping with Crohn's disease and ileitis and colitis. She was active in supporting research and fund raising to help people living with those diseases.
In addition to working hard in their careers, Sheila and Bill began sailing throughout Georgian Bay on their 30' Alberg sailboat named "Wings of a Dove", a reference from a verse in Psalm 55, "Oh that I had wings of a dove for then I would fly away and be at rest." Felix Mendelssohn would immortalize those words by composing the song, "Hear My Prayer / Oh for the Wings of a Dove" and Master Ernest Lough, the famous English Choirboy soprano, recorded the song. Sheila loved his rendition of that song and would listen to her 78 RPM recording, even though 33 RPM records, CD's and downloaded versions became available.
Sheila was very musical and had earned, as a child, the Royal Conservatory 8th Grade Diploma in voice/singing. She loved to sing and was active in her church choir as well as the Kitchener-Waterloo Philharmonic Choir. Listening on the radio to the New York Metropolitan's opera each Saturday afternoon was a joy to her, and for Bill. (Not so much her 3 children).
Sheila and Bill prided themselves in sailing "Wings of a Dove" across Georgian Bay from Wiarton to Parry Sound, at night. Most of that journey was done, outside of the sight-of-land, and was accomplished by applying dead reckoning navigation skills long before GPS became available to recreational boaters.
In time, Sheila and Bill's children married and grandchildren, to their delight, began emerging upon the family scene, beginning with Christina and then Robert (Chanon), Michael, Katrina (Tim) Will (Alex), Rebecca, Greg (Posy) and Allison. Great grandchildren began to arrive later in her life starting with Christina's children, Millie and then Kenzie, followed by Chanon and Robert's children Catherine and Ryan. Sheila loved children and found joy with each child's arrival.
Sheila and Bill built their summer cottage in Parry Sound and retired in 1991 - spending their summers at their cottage. They sold their home in Waterloo and returned to her hometown of Oak Bay (Victoria), BC to enjoy the BC lifestyle that included Sheila's childhood friends, sailing, biking, and hiking. They were active members of the Royal Victoria Yacht Club and social members of the Oak Bay Golf Club. Weekly bridge games were held with close friends. In addition, they travelled to Africa, the Philippines, Europe, New Zealand, Australia, Russia, and the UK.
Sheila and Bill spent 20+ summers at their Parry Sound cottage hosting their many friends and their growing family. They remained strong friends with Bud (1928-2021) and Florence Hayes of Waterloo and their family. The Hayes also owned their family cottage in Parry Sound. Sheila and Bill built friendships wherever they lived, including Parry Sound locals, the Harrison family, who own and operate their multi-generation marina.
Sadly, in 2007, her eldest son, David, was killed in an automobile crash caused by an impaired, young, drug addict – every parent's worst nightmare, losing a child. The hurt and loss was felt by all, but especially Janice, David's wife, and their three children, Christina, Katrina and Will.
…and Bill, her husband, of more than 62 years died in 2009. Shortly after Bills' death, Sheila moved back to Southern Ontario to be closer to her cottage in Parry Sound and to be closer to her daughter Joan, living in Pennsylvania and younger son, Bruce in Tennessee.
Her remaining years were spent at her cottage in Parry Sound and at her residences at Heritage Meadows in Cambridge and then Luther Village in Waterloo. She became fast friends with her caregiver, Ingrid Dwyer of Cambridge, who provided trusting friendship, companionship, and invaluable care in her final years. The family is indebted to Ingrid who would anticipate Sheila's care needs and was a strong advocate for Sheila's health and medical needs.
The family would also like to thank the caregivers at Luther Village, Senior Care by Angels, Paramed and Innisfree House – all very caring souls!
Sheila was very much with us to the end…giving her children and grandchildren last minute instructions. She was, like all the women in her family, strong-willed, determined, opinionated and an independent thinker. She followed her mother's example and set the example for her daughter, daughters-in-law, granddaughters, and great-granddaughters. The family knick-named her "The Dowager" after Maggie Smith's character in the TV show, "Downton Abby". She saw the world as it is and would voice her opinions upon what was right and what was wrong. She sought to improve the world, when and as she could, but was realistic about what could be reasonably achieved. She could read people very well. As a Medical Social Worker, a co-worker described her as a Social Worker who didn't berate the patients for their mistakes - mistakes and decisions that led the patients into the troubles that they were coping with. Instead, she worked hard to guide her patients out of their situation and sought positive outcomes and changes in behavior…as best as anyone could.
She was a good wife and mother. As a medical social worker, she mattered and made a difference. To her dying day, she told us that she was blessed to have had a good husband, children (and their spouses), grandchildren (and their spouses) and great-grandchildren.
She set an example for all of us. She will be missed. We are grateful to have had her in our lives.
An Anglican Church service and celebration-of-life will be held on a later date. Cremation has occurred. Flowers graciously declined but, if you so wish, Sheila's favorite charity is Canada's Crohn's and Colitis Foundation https://crohnsandcolitis.ca/ an educational foundation that supports patients coping with the disease - the same patients whom Sheila worked with as a Medical Social Worker.
An Anglican Church service and celebration-of-life will be held on a later date


Share Your Memory of
Sheila