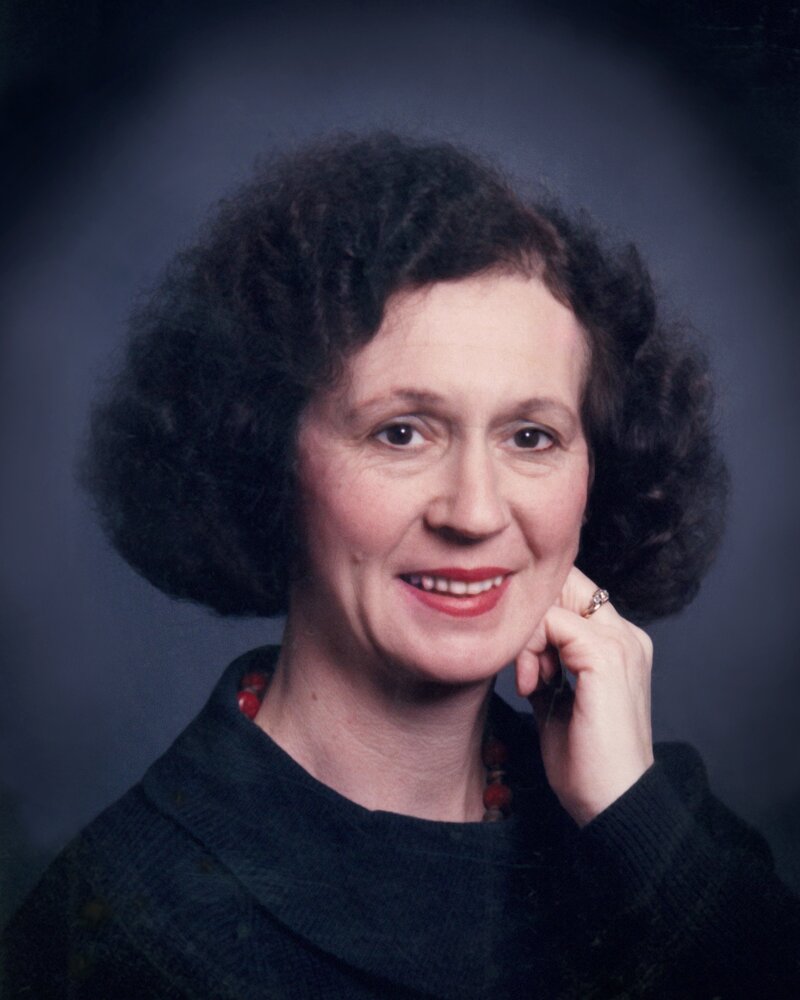 Obituary of Lesley Lynne-Davies
Lesley Lynne-Davies (née Robins) (April 12, 1934 - December 30, 2021)
Our mum Lesley was born in Chester, England. She was the middle of three daughters to James and Doris Robins. Lesley was very close to her sisters Margaret Dromgoole and Ann Shaw as well as their extended families in England. While she spent most of her life in Canada, a large part of her soul was always in England.
Lesley trained as a nurse at Westminster Hospital in London, England. She met her future husband, Gerald Lynne-Davies, when they were both in training. Gerry left for Canada after he finished medical school and proposed to Lesley from a distance. He sent money back to her and asked that she buy an engagement ring. Lesley did, and she came to Canada to visit to see if she was making the right decision. Well, apparently, it was. They were married in Bassano, Alberta, in November 1956. They lived there, and Lesley worked as a nurse and Gerry as a family doctor.
Lesley and Gerry then moved to Ontario to Ayr and later Kitchener, where they had three children – Timothy, Jonathan (Kelly) and Gillian (Peter Sibenik).
Gerry's career then took our family to Edmonton, Vancouver, and finally we settled in Waterloo. Lesley ran the household and was simply the best mum ever. Lesley was a foody with shelves full of cookbooks, so meals were always delicious. Friends were ever welcome to our home. Lesley hosted many parties. Family was everything to her, and so we grew up with a great sense of belonging. Our family expanded to include other British families in the K-W area.
Lesley had many good friends in Kitchener-Waterloo. She was involved in book clubs, Probus, bridge, the Women's Hospital Auxiliary, tennis and many other endeavours.
Tragedy struck our family when Gerry died suddenly in 1980. As tough as it was, Lesley found her inner strength and led a life of independence. She was a role model for many and especially her daughter, Gillian.
After Gerry's death, Lesley worked for many years in the studio of renowned Waterloo artist Peter Etril Snyder. She enjoyed this time very much.
Years later, Lesley's family grew with her grandchildren – Michael, Sam (Rachelle), Rachel (Moe), Jasper and Josh. She adored them all. Family celebrations were opinionated, boisterous and memorable for everyone.
After 17 years on her own, Lesley came to an especially wonderful period of her life. She became reacquainted with an old friend, Dr. Howard Thompson, whom she eventually married. Howard brought her great love and happiness. Together they travelled extensively and had many adventures. Howard predeceased Lesley in 2017. She talked about him in her dying days.
Aside from her family, Lesley's proudest accomplishment was her work with the Multiple Sclerosis Society in Kitchener-Waterloo. Her leadership was recognized with several awards. She helped organize support services and she fundraised locally to assist people with multiple sclerosis. Together with Howard, they raised funds to purchase a house so that people could meet, network and share resources and knowledge about multiple sclerosis. This work was so meaningful to Lesley because her mother lived with MS, so she knew firsthand the impact of MS on families.
Due to Covid-19 restrictions, a private service will be held to celebrate Lesley's life at the Erb & Good Family Funeral Home chapel on January 6th at 1:00 pm. As not everyone will be able to attend in person, there will also be a live-stream of the service. The link is provided on the Erb & Good website.
Sincere thanks to the Palliative Care team at Freeport Hospital. If interested, condolences for the family and memorial donations may be made to the Multiple Sclerosis Society of Canada under the category "services in my community" for the Grand River Chapter.


Share Your Memory of
Lesley