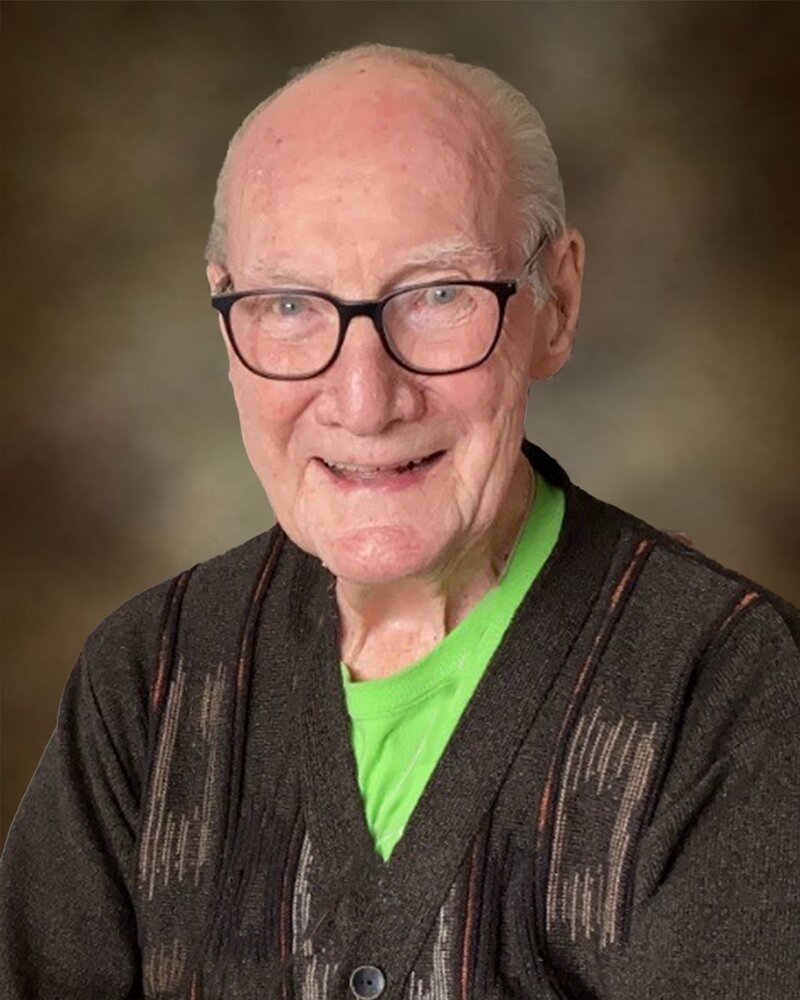 Obituary of Ronald Gohl
Ronald Dudley Gohl
August 4, 1921 - January 13, 2022
Due to the pandemic restrictions, we would like to share a more detailed description of our amazing Dad.
"I can't believe how lucky I am to enjoy this life - a happy and close family, good friends, travel, health …" a quote from Ron's autobiography and often repeated in conversations.
Ron's luck continued to the end, as his last wish was granted, passing away quickly and peacefully, right after Happy Hour, surrounded by family at his condo. He is reunited with his beloved wife, Marge (2016) and son, Jim (1981).
Ron leaves behind his four daughters, their husbands, and seven grandchildren, who are forever inspired by his vitality: Dianne and Mike; Debbie, Scott, Molly and Lucas; Denise, Craig and Piper; Vicki, Peter, Cassia, Justine, James and Evan.
Ron was the fifth of six children of Elijah and Philippa Gohl. He grew up in Roland and Boissevain, Manitoba. He maintained he was the least smart, failed grade 12 French (twice), was the worst behaved and the only non-musical one in his family, but one of the best skaters in town. In between catching bounty gophers for a penny and working on relatives' farms, he contributed to the family during The Depression by selling hotdogs, newspapers and his mother's homemade bread.
Ron served in the RCAF from 1942 to 1946 and, although disappointed that his poor eyesight kept him from becoming a pilot, he loved working in radar and his cross-Canada adventures ignited his love of travel. During his wartime service, he met the love of his life, Marge.
After completing his degree in Agriculture at the University of Manitoba, they married in 1949. They honeymooned in Chicago where they saw television for the first time. They moved to Toronto so Ron could attend the Ontario College of Education. Ron taught in Port Perry and Scarborough before moving to Kitchener-Waterloo in 1960. He was science head at KCI, vice-principal at Eastwood and WCI and principal at Waterloo-Oxford, retiring after 31 years.
Ron's teaching extended to his family. He taught us the importance of building and maintaining friendships, staying physically active, trying new things, being active in the community and gaining experiences through travel.
He stayed connected to friends and relatives while welcoming new friendships. He embraced Facebook, Facetime and texting to regularly maintain those relationships. His thoughtfulness included small gestures of love like sending his sisters and daughters roses on Valentine's Day, mailing copies of a favourite book to relatives and buying chocolates for his favourite hotel employees.
He skied, curled, skated, square-danced, chopped and piled wood and more. Upon retirement he made it a priority to exercise three times a day. Walking, swimming, morning exercises, weights and biking were part of his activity rotation.
He believed in the importance of trying new things: growing grapes and raspberries, renovating the cottage, building a fibreglass boat and bunk beds and keeping connected on social media.
Ron believed in being active in the community and gave his time to coach curling, hockey and cadets, as well as being a member of Rotary and the Retired Business & Professional Men's Club, working with Meals on Wheels, Censuses, elections and condo committees.
He welcomed any and all travel, visiting places as far as Russia, Chile, Zimbabwe and Turkey.
To keep his mind sharp, Ron enjoyed playing bridge, reading westerns, outsmarting squirrels at his backyard bird feeders and watching Jeopardy and the 11 o'clock news. He showed expertise and patience helping all of us count a little quicker in crib, and remember the rankings of poker hands while we fretted over losing pennies.
He loved planning trips, get-togethers with friends, jaunts to horse races and casinos, fishing days and drives to pick up apples and cheese.
For a guy whose motto was "everything in moderation", he loved to drive fast, thought nothing wrong with painting a dock pink because the paint was on sale and eating ice cream after most dinners.
We are grateful Mom and Dad bought the family cottage on Big Straggle Lake in 1963. This became one of his favourite places. "Every time I drove there, when I got on those rolling hills and near the cottage, I felt so free …" His patience shone through teaching numerous kids on the lake to waterski. He paid his children pennies to gather stones from the beach; the older the child, the bigger the pail. He relaxed evenings by fishing, often catching enough for dinner. Ron was still walking up and down several flights of stairs to and from the dock at age 98.
He loved cheese and onion sandwiches and music made before 1970. His eyes lit up whenever his grandchildren came to visit or he watched them in their productions and sporting events. He was planning his next trip before he passed away.
He simply loved life.
We are forever grateful for the loving support of Lisa, Kristen and Julie.
The family will hold a private celebration of life at the cottage this summer.
Condolences, information on donations to the KW Poppy Fund, the Women's Crisis Centre or a charity of your choice may be found at www.erbgood.com or 519-745-8445. Condolences may also be sent to gohlfamily118@gmail.com.


Share Your Memory of
Ronald