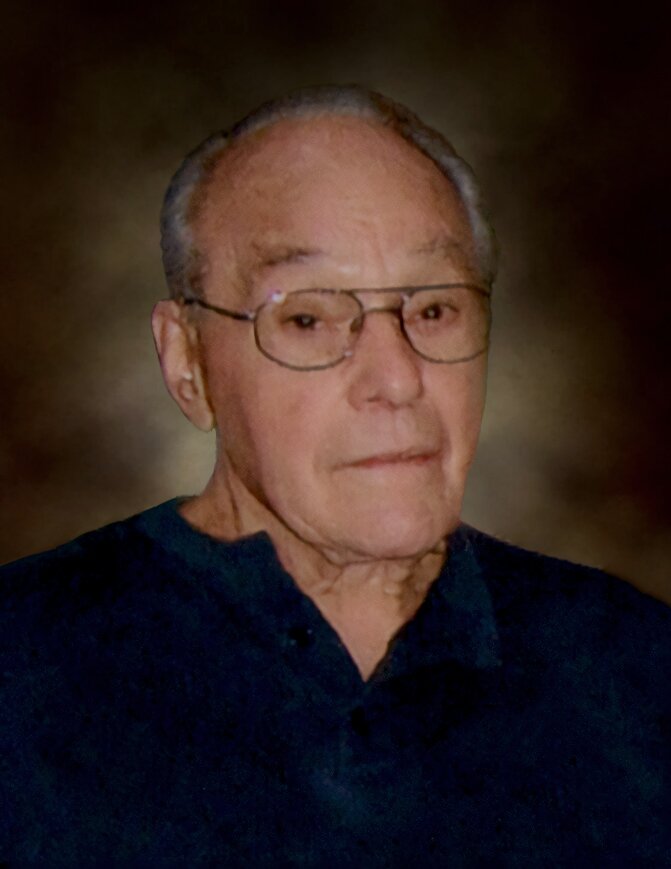 Obituary of Lorne Schell
To view the livestream of the service, please click here.
Lorne leading a full life of 97 years passed away January 25th after grieving the loss of his final surviving son Larry on January 9, 2022. He had lost his youngest son Mark on May 5, 2021, and his first born son Ric April 30, 2009.
Lorne was also predeceased by his wife Mary (Martha Boyko), September 1995, and both his parents Margaret (Mueller) and Alfred Schell.
At the age of 16, his love of boats led Lorne to lie about his age and join the Navy. He served his entire service on the HMCS Ottawa (ll). As a WWll veteran Lorne returned to Kitchener and met his future wife, Mary. He returned to school and became an engineer. His love for cars led him and all three sons to join the Shifters Car Club.
Lorne's retirement years were spent being involved with family and extended family. He enjoyed time spent with his close friend Florence Tunney and her family. He enjoyed volleyball, bowling, hiking, and watching his grandchildren and extended family play hockey, soccer, and baseball.
Lorne is survived by his Brother-in-law Nick (Pat) Boyko and family. Daughter-in-laws Linda (Ric), Jan (Larry), and Elisa (Mark), as well as grandchildren Erin (Jack) Harrison, Dori (Cory) Gray, Ashley (Brian) Cudney, Jason MacLeod, Katrina (Keith) Miller, Paul (Jackie) Schell Holmes, and Kenny (Deryn Ashley) Schell Holmes. Lorne was blessed with great-grandchildren, Jake, Andrew, Brandon, Catherine, Taylor, Eden, Kenzinton, Quentin, Tayler, Mackayla, Liam, Ben, Coltyn. Lorne was Papa to extended family members Anne and Gary, Nichol, Michelle and Nicki, Shae and Jack Martin, Dean Fitzgerald and Carmella Smith, Amellia, Isabella, & Delillah, Judy and Rob McKay and family.
Special thanks to the staff at Chartwell Terrace on the Square where Lorne resided for the past two years. As well as Dean Fitzgerald and Carmella Smith along with their daughter Amellia, who visited, took Lorne bowling and most of all were there on his final days in hospital when he needed them the most.
A contribution to the charity of your choice in lieu of flowers would be welcome.
A private family service will be held at the Erb & Good Funeral Home on Friday February 4, 2022, at 11:00 am followed by interment at Memory Gardens beside his wife Mary. The livestream link will be available at www.erbgood.com.
Born October 9th., 1924. 97 plus years.
A long very interesting life, beyond most people's experiences, or expectations.
Lorne, born an only child to Margaret (Mueller) Alfred Schell.
Lorne's mother was the last, 11th child born into her family. Alf was one of a hockey team of brothers.
Alf worked at Uniroyal Rubber Factory. Marg raised her son Lorne during those years of depression.
The blended family bond with both Alf's and Marg's family was very strong and stable.
Alf and his brothers went on to establish their own Schell hockey team. Which today pictures hang in the Kitchener Auditorium. In honour of a family that gave much to the hockey world and their home town.
Alf went on to become a scout for the Toronto Maple Leaf's. Where he has been also honoured in the Toronto Hockey Hall of Fame. Hoping some day, Lorne would take up this loved family sport.
Lorne had other interests and loves. One was, joining the navy. Lorne loved ships, loved the water. His interests, the onset of WW 11 saw him running to the Navy Offices, lying about his age (only being 16) joining the love he so wanted.
His years in the Navy, sinking a U-boat, being involved in many war tragedies. He spent his entire War service on the HMCS Ottawa (11) He made 5 transatlantic crossings. The ship was assigned to escort convoys in the North Atlantic until she was transferred in May 1944 to protect the forces involved with the Normandy Landings. Working with other destroyers, on July 6th1944. Ottawa Kootenay and the British corvette Statice, sand U-678 off Beachy Head Sussex. Ottawa and Chaudiere sank U-621 on August 16th near La Rochelle and 2 days later they sank U-984 west of Brest. After the end of the European War, JMCS Ottawa (11) was used to bring Canadian troops home until it was paid off in October of 1945. Lorne then served aboard a coal burning tug. His happiest memory on the Ottawa is escorting a ship full of War Brides coming to Halifax from the UK via New York.
Lorne, with war medals earned through these tragedies but with a feeling of honour. Which he declined to talk about with his future family for many years later. Not until his great grandchildren asked him questions did his family hear him speak and know of the extent of this, his heroic part of life.
Lorne's loves extended to motorcycles, cars, working with his hands. This enticed him to rethink later on of his education and where he should go.
Lorne met Martha Mary Boyko. They married and had many interesting rides on the motorcycle with Mary in the side car. This stopped when Mary became pregnant with their first born, Richard.
Along came Larry and Lorne's love of working with his hands had him rethink education. Lorne went back to school and got his degree to became an engineer working in the offices of Electrahome in Kitchener.
Lorne now married and with 2 new sons built their first home on Arnold Street in Kitchener. Lorne and Mary raised three boys in this home.
As the boys grew their love of water, waterskiing, boating, motorcycles, and working with their hands was amplified with their father's love.
Mary was totally involved in their growing years supporting their loves of the water, camping, boating skiing, raising three boys and also working at Forsyth Factory blending the income raising 3 growing boys.
Alf Schell, his loved hockey had him raising his 3 grandsons with the hopes one would be a future NHL prodigy. All three boys loved hockey but none were good enough for the sport but Grandpa Schell was proud anyway.
One huge icon was Grandma Schell. The glue that kept that family focused. Smart beyond belief. Supportive, there for all her family, grand children and great grand children. Two women were Lorne' great love. His mother and Mary.
As the 3 boys grew, they all including their dad joined the Shifters Car club where their family bonding was stead fast in the love of cars and working together.
Lorne hands gifted him and others to always be there to help with anything and anything for family and friends.
When Lorne's father and mother passed their home in what then was called Bridgeport became his and Mary's future home.
Many years enjoyment was spent in that home. Grand children and great grand children continued that enjoyment.
Mary passed in September of 1995.
Lorne and Mary had a love for dancing. Something Lorne never lost his love for. Lorne was also a proud member of the Legion having served his country proudly during WW11. Mary and Lorne continued to enjoy their dancing and it was such a gift to watch Lorne do the old swing dances he never forgot. Continuing to dance even after he lost Mary.
With Mary's passing Lorne was left at a young age lonely. As time passed Lorne's friendship extended to Florence Tunney. Their companionship spread over many years until Florence herself became unwell.
Lorne then found himself too lonely as his first-born son Richard Edward passed in April 2009.
Larry his middle son and youngest son Mark, along with Ric's wife Linda and other family members, grand children, continued to check in on their dad, grandpa. As time passed Lorne needed more assistance with care.
Larry and family had moved to Alberta for work in 1978. This did not prevent Larry and family from their continued travel to Kitchener and checking in on dad. Lorne had Larry, Mark, Linda and Mary's brother and wife, Nick and Pat Boyko, friends at bowling a sport with many friendships made, which he so enjoyed for many years until his last year as his eye sight, hearing and arthritic took over. He was in need then of the Social Health care network.
During Lorne's last 4 years in his home. Larry and wife Jan travelled every 6-8 weeks to Kitchener and instilled themselves with the process of selling Lorne's home and registering him in Chartwell Senior Home in Waterloo. Wanting to ensure he was well cared for, and his wishes were met to stay in Kitchener/Waterloo rather then live in Alberta. This was a huge combined effort which included Linda, Dean, Carmella, Amellia, their two little girls, and many other family members. This did not stop Lorne from enjoying outside trips to Shae and Jacks soccer or hockey games, visiting grand children Dori and Erin and families in Barrie and other enjoyable outings.
Lorne had made very close loving relations with his grand children, great grand children, also Jan's family. Becoming Papa Lorne to many of the other families, children, grand children, the great grand children. He attended their weddings, hockey practices, games, soccer practices, birthdays, Christmas concerts, celebrations. On both sides he was loved and known as their Papa.
Jan's brother Dean, Wife and children, mostly Amellia were vey well known to Chartwell instilling themselves as constant family visitors as well as Linda and Nick and Pat. This helped to ensure the Alberta and other out of town families knew their grandfather was well cared for and not alone. Covid will be a tragic time in everyone's life that prevented many families from being separated from their loved ones.
Chartwell was home. Chartwell was family. We all knew Lorne was in a safe loving home. We cannot thank all of the staff within those walls and residence for the love and companionship Lorne made.
During the short period that Lorne made his home at Chartwell, he lost his youngest son Mark in May of 2021. Leaving his daughter in law Elisa.
Larry became very ill during this time and he passed away Jan 9th. 2022. A heart breaking time for all families and friends.
Over whelming grief descended upon this family in waves over a period of 9 months.
Lorne's grief engulfed him and Lorne passed on January 25th., 2022. 16 days after his son Larry. Wanting to be with his family was paramount to Lorne.
We are very sure Larry just passing was there to meet his dad, as well as Mary, Ric and Mark, his mom and dad.
Lorne has left behind many loving fond memories for all who knew him. His strong values, working hands that taught so many.
Lorne had a booming voice and an infectious laugh that his sons inherited as well. That laugh will remain with everyone for ever.
The entire family cannot thank Dean, Carmella and Amellia enough, for being allowed to enter the hospital during Lorne's final moments
Until we meet again.
Love you to the moon and back. We know you are now in the arms of all your loving family.
Funeral Service
11:00 am
Friday, February 4, 2022
Erb & Good Family Funeral Home Chapel
171 King Street South
Waterloo, Ontario, Canada
Interment
Memory Gardens
2723 Victoria St. N.,
Breslau, Ontario, Canada
Private family interment following the service.


Share Your Memory of
Lorne