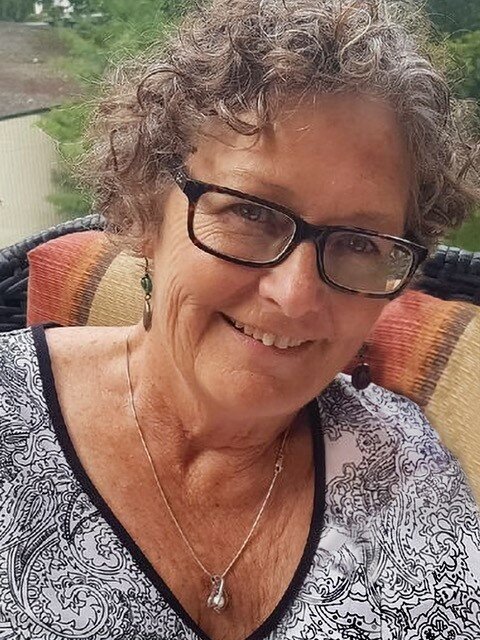 Share Your Memory of
Eleanor


Obituary of Eleanor Louise Harder
Eleanor Louise (Koop) Harder
April 19, 1950—Jan 31, 2022
A service to celebrate the life of ELEANOR LOUISE KOOP HARDER will take place on Saturday, August 20 at 4 pm at Rockway Mennonite Church (47 Onward Ave, Kitchener). Reception to follow. All are welcome. Masks to be worn.
This is a story of Elly Harder's life.
Written by me, her eldest son, Matthew.
I'll do my best to get the facts right, but I'm relying on my memory, and what's worse, I wasn't around for the
first 27 years of her life, so I'm relying on other people's memories.
When in doubt, I'll opt for the version that makes her sound amazing, or maybe the version that makes me
laugh.
Elly was born in Vineland, Ontario on April 19, 1950–the fourth child of Agnes (Willms) and Henry Koop.
Following her three brothers, Gary, John(d), and Alvin, she was the first of two girls, Elly and Marilyn(d).
In every photo I've seen, their place on Creek road in Virgil was littered with extra kids. In the early years it was
maybe just the Janzen clan, but once they put a pool in the backyard, it seemed to draw in the whole
neighbourhood.
Koop's Pharmacy was the family business. The kids were all conscripted into washing bottles and sweeping
floors, but it was often said that Elly was the family's best bet for an heir to store. She was the only one who
perfected the technique of flicking open a paper bag behind the counter to discreetly drop in a box of condoms,
ring it up, and hand it to a customer who hadn't said a word since entering the store. Maybe the real skill was
guessing what he wanted.
By her telling, school was pretty uneventful–just effortlessly excelling at academics and staying out of trouble.
Although, we did come across one of her old report cards several years ago and I took note of a couple of B+
grades.
"Hmmm" she smirked. "Maybe I wasn't perfect."
Whatever half truths she told us about her school years, one thing is certain–sometime in her last year of high
school, a handsome peach farmer's son from Beamsville caught her eye. Maybe it was a coincidence or
maybe they planned it, but in August of 1968 Ron and Elly were on the same train headed to Winnipeg to
attend Canadian Mennonite Bible College. In Dad's words: "She sat down and offered me a menthol. By the
time we got to Winnipeg, I was hooked."
It only took them one year at CMBC to decide they wanted to get married and they wanted to move back to
Ontario. They were married at Bethany Mennonite Church in Virgil, on October 10,1969.
Ron's brother John(d) was the officiant.
They studied for another year at University of Waterloo, but Elly was restless. Maybe she was hearing one of
Henry's favourite expressions, "When all is said and done, more gets said than done." For her, it was time to
stop talking and start doing.
They signed up for a two year MCC term at Warden Woods Church and Community Center in Scarborough.
Elly worked in the preschool program and, ever the student, she did an ECE diploma at Seneca college to back
up the work.
After a couple years in Scarborough, they felt the pull to get back to the land. On a farm near Belwood they
formed Plowshare Partners–a group of would-be hippies living together and running a mixed farm, a potter's
studio, a luthier's workshop, and a group home for children and youth. While working as the house-mum for
the group home kids, and tending to the oversized workload of a farm wife, (gardening, cooking, baking,
canning, pickling, sewing…) Elly carved out some more time for education. She completed a Child Care
Worker Diploma at George Brown College in Toronto. (1974)
*Useless side note: Mom hated pickles. Hated them. In those years she must have made a thousand jars of
the most delicious pickles, but she never ate one. They were just for us. Who does that?
The farm was the birthplace of 'Rural Delivery' –an Old Timey band that played barn dances across southern
ontario. I don't know if Mom would have ever called herself a member of the band, but I've seen photos of her
on stage with an autoharp so I'm saying she was.
Speaking of birthplaces, this hippie commune is where I joined the story in 1977. I don't think Mom ever had a
bad word to say about the decision to have kids, but she never minced words about how much she hated
pregnancy. She voted to adopt next time, and hers was the only vote counted.
They adopted Jon in 1980.
For me, the 80s are scattered memories of me and Jon, and our cousins Sam and Laurel, or some other batch
of kids swimming in (or skating on) the pond, playing ball, or biking around our farmyard. Relatively unaware of
my parents' existence, I just assumed it was more of the same in grown-up world.
Apparently, Mom spent two years working at the Arbor's Day Program in Guelph, and then decided to go back
to school. She finished her undergrad at Renison College(UofW) and then on to an MSW at Wilfred Laurier.
Amazing what she could accomplish without us noticing.
Not surprisingly, Mom felt she'd earned a break. They had sold the farm, and she figured they might as well
spend their last $5000 on a trip to Europe. Cathedrals, galleries, museums, mountains, and a chance to visit
many of the Ag students and Trainees who had worked on the farm over the years. It's a trip we reminisce
about often, and Mom always said they'd do it again someday with the grandkids.
1987 was a restart year. Done with farm life, Elly got a job at the Community Mental Health Clinic. First as a
therapist, then a supervisor, and eventually a manager, specializing in program development. She put
thousands of kilometres on an Oldsmobile Ninety-eight (dubbed the 'Queen Mary') working in Fergus, Mount
Forest, Orangeville, Guelph, and eventually Kitchener. Her last project, and I think the one she was most proud
of, was focused on accessible mental health crisis services - laying the groundwork for what would become
Waterloo-Wellington-Dufferin's 'Here24seven' hotline.
There was another restart that happened in these same years– a boom in new cousins.
Al and Sheila had a surprise third child, Daniel(d). Ron and Elly had a surprise adoption, James.
And after many years in St. John's, Marilyn moved back to Ontario with Howie and their daughter, Katie.
Mom liked to refer to the new trio of cousins as 'the Late Crop.'
Our family moved to Kitchener in 1992, when Jon and I decided to attend Rockway Collegiate. These are the
years when parents become taxi drivers. Me to band practices, Jon to track meets, and Mom's favourite,
James' dance recitals.
We'd been sparse attendees at Rockway Mennonite Church during the farm years, but once we were in the city
Mom became very invested in that community. The young activist of the late 60s reinvented as a relentless
committee member.
Name a cause: systemic racism, indigenous peoples rights, LGBTQ rights, refugee supports, prison reform,
mental health awareness, or just re-organizing the church hospitality system so that it runs smoother.
Elly could accept that not all problems can be solved. But, we can probably do something. We just need to get
organized.
Mom retired in 2010 with clear goals: travel and take photos.
Indo-china, India, Mexico, Belize, Colombia, South Africa, Europe and the list goes on…
She also wanted to see more of Canada and the U.S. That's why they adopted the last member of the
family–The Ramblin' Rose– a '94 Dodge Van with a camper conversion. White with dusty pink upholstery, fake
walnut paneling, and a 6" Television! To some, it would've seemed too small, or too outdated. But with a fresh
coat of paint, and a set of custom curtains sewn by Elly, it became a palace on wheels.
She loved any travel, but the trips she talked about most often were the ones that connected her with family.
Sailing in the British Virgin Islands with Barb and Gary, a tandem van trip in Arizona with John and Cathy, and
at the top of the list, a trip to Malawi to see her niece Katie get married to JP. Bittersweet because it highlighted
Marilyn's absence, but nevertheless, it was one of Mom's most precious memories.
In the last few years the travel destinations became less exotic. Oma and Opa weren't going to be strangers to
their grandkids, so visits to Brooklin and Winnipeg were frequent. Sometimes there'd be plans–going to the
zoo, a waterpark, craft projects, or baking gingerbread houses–sometimes it was just sitting on the couch
reading a story or watching a show-and-tell.
It didn't matter what they did. All that mattered was that Oma and Opa were present.
I could fill six pages with memories of her time with the grandkids, and still more with all the plans she was
making for them, but let's leave it at this: She loved being an Oma, and she loved her grandkids.
Mom died on January 31, 2022
The story ends just like that. There was supposed to be another chapter to tie it all together, but we'll just have
to imagine what that would've been.
Maybe it's obvious from my writing style, but I'm not very comfortable on the page. I would much rather have
told this story in person, but we'll just have to settle for these clumsy pages. As I sat and wrote I could hear my
uncles telling me to do better research. I could hear mom telling me to stop editorializing her life. I could hear
Henry asking why he only got one quote in this thing.
Mostly, I could hear a voice asking what we're going to do without her…
I guess we'll try to get organized. Try to do something. Settle for a B+ Nobody's perfect.
Mom has been cremated, and we look forward to a day when we can gather a crowd of those who loved her
and scatter her ashes on Lake Panache.
The remaining members of our clan:
Ron
Me and Rebecca and our boys, Hugo and Abram
Jon and Meghan and their kids, Michaela and Aiden
James
And our Sister-in-Loss, Katie.
Elly's siblings and in laws:
Barb and Gary, Al and Sheila, Howie, Cathy.
Ron's siblings and in laws:
Waldo and Frieda, Helmut and Irma, Carrie, Marianne and Ed,
And the gaggle of cousins and nibblings in the next generations.
And those who've gone before:
Henry and Agnes, Ma Harder,
Marilyn, John K, John H,
Tracy,
Marillee,
Daniel.
See you at the lake,
I'll save my final goodbye until then.
-M
Please take a moment to share your personal stories of Elly with her family by clicking "tribute wall" above this obituary.
Celebration of Eleanor's Life
4:00 pm
Saturday, August 20, 2022
Rockway Mennonite Church
47 Onward Ave
Kitchener, Ontario, Canada

Get Directions