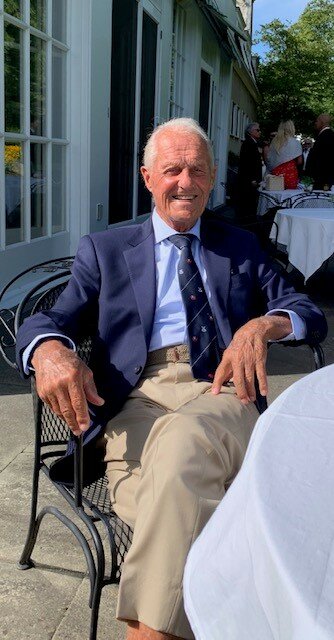 Share Your Memory of
Robert


Obituary of Robert Thomas Putnam, U.E.
With heavy hearts, the family of Robert Thomas Putnam announces his passing on March 5, 2022. He was in his 94th year.
Robert was born in Vancouver,B.C. on November 14, 1928. He was the eldest of four sons born to Margaret (Neilson) Putnam and E. Earl Putnam, and was a descendant of United Empire Loyalist lineage.
Beloved husband, best friend and soulmate of the late Marie (Wagner) Putnam. Loving father to his cherished daughters, Mary Rebecca Beckley (Thomas), Margaret Fitzpatrick (Stephen), Melissa Burnett King (Montgomery). Proud grandfather of Heather Beckley (Ian Wilson), Holly Pritchard (Jason), Cameron Ginn, and Jessica Ginn, and great-grandfather to Owen Pritchard. Loving brother to David Neilson Putnam.
He was predeceased by his parents, his wife of 63 years, his brothers Richard James Putnam and J. Michael Putnam, and many special life-long friends.
He was a true "Waterloo Boy", spending most of his life in Waterloo. He attended Alexandra, Elizabeth Ziegler and Central schools, where many of his friendships began. His later school years were spent at St. Andrews College, where he distinguished himself in athletics.
He started his career at Canada Health and Accident, a business his father founded.
In 1959, he and his young family moved to Hawaii and began an adventure of a lifetime. During the six glorious years there many wonderful family memories were created and new friendships formed. Fully experiencing and participating in the Hawaiian culture was very important to him. He learned to play the ukulele and was involved with the University of Hawaii, participating in many archaeological digs. While in Hawaii, he was employed as the personnel manager for First Insurance Company of Hawaii.

Upon returning to Canada in 1965, he purchased Waterloo Glove Mfg. Co. Ltd., and successfully owned and operated the business for 25 years. He worked hard and long hours to transition it from an industrial glove manufacturing business to an international market leader in curling gloves, sliders, and other sport gloves and accessories, eventually becoming the home of Tournament Handware. His creative skills were used to their full extent to design and create patterns for his products. He learned to sew and cut leather, vinyl and other materials. He was very hands on and highly respected by his employees.

In his retirement, he pursued his favourite things. Entertaining was a priority, and their home was always open to family and friends. If it was a dinner party, it usually had a theme and he took care of all of the favours, place cards, games and prizes; it was always very well thought out.
Our parents spent many enjoyable years in Florida and Pinehurst, North Carolina, golfing and walking the beaches.
Our father was a voracious reader, and in his later years he managed to read all of the classics.
Dad purchased a computer as soon as they were available to individuals. He was self-taught and became very computer-literate. At the age of 92, he was still doing online banking and corresponding with old friends via email.

His life-long hobby was genealogy; he worked at it for over 70 years and wrote several manuscripts. He travelled to England, Scotland, Ireland and the United States, and communicated with people from all over the world, to gather information in support of his research. He volunteered with the Ontario Genealogical Society, transcribing cemeteries to preserve records.

He was an avid golfer and belonged to the Westmount Golf and Country Club for over 50 years, winning the Senior Men's Club Championship in 1992 and he accomplished three "hole in one's" on the course.

He was always very inquisitive, creative and clever, and one who was never afraid to think outside of the box. His skills covered a wide range of interests, including such things as baking bread from scratch, metalworking, jewellery making, cross-stitch, wood carving, landscaping, and propagating trees from seed.

He loved to walk and bike outdoors, and in his last years he could be seen on good weather days walking with his walker on a route close to home. He would log a couple of miles most days.
Our family would like to thank St. Mary's Hospital and Grand River Freeport Hospital for their care and compassion.
Our Dad lived a very long and full life; we were so very fortunate to have him with us all of these years. We take great comfort in knowing that he and our mother will once again be together. We are very proud to be his daughters. He will be greatly missed, but will remain forever in our hearts.
At Dad's request there will be no visitation or service. Cremation has taken place and he will rest beside our mother at Mount Hope Cemetery.
If desired a donation may be made to Freeport Health Centre c/o Grand River Hospital Foundation and can be arranged through the Erb & Good Family Funeral Home at www.erbgood.com