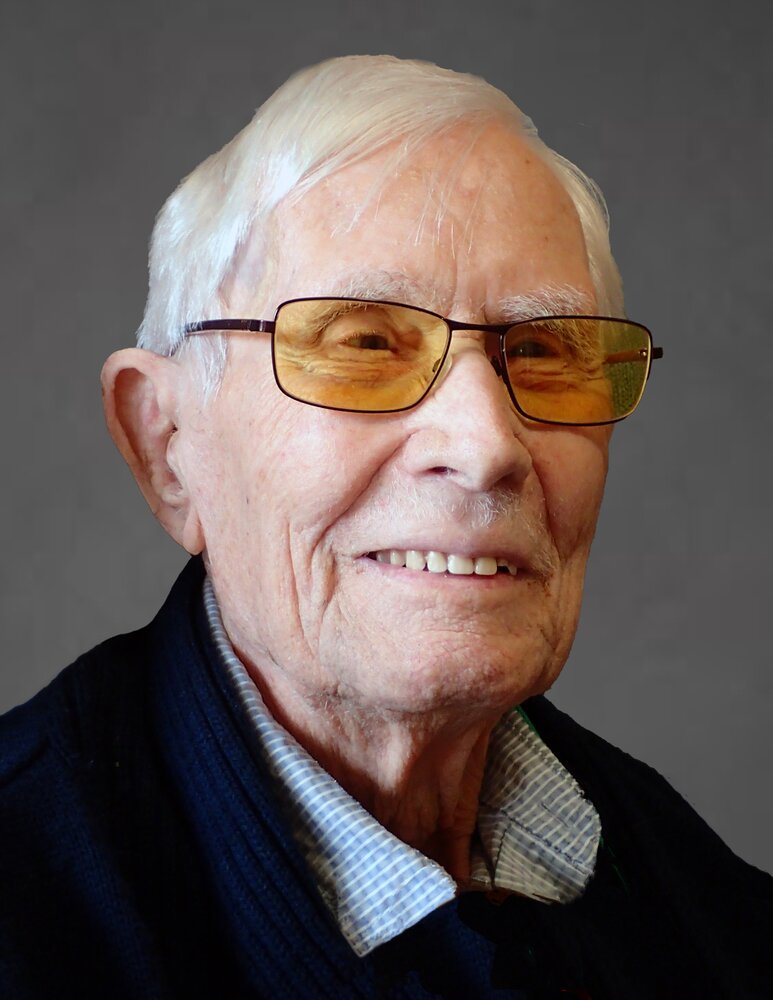 Share Your Memory of
Brian


Obituary of Brian James Boswell Galvin MBA, FCA-FCPA
Brian Galvin was the third son of Lt Col J.S. Galvin, Indian Medical Services, and his wife Stella. Predeceased by his wife, Doreen Galvin (nee Grey) in 2017, as well as his two older brothers and their wives, Jack & Annie, and Paddy & Karla.
Brian was born in Darjeeling, India, where his father was first a British army doctor and then in the Indian Medical Service. Brian's first language was Bhutanese, spoken to him by his ayah (nanny), with whom he corresponded until her death in the 1970s. He spoke fluent Hindi and Nepali, learned Latin, Greek and French in school and had a smattering of other languages such as Urdu and Welsh. His command of the English language was inspiring and often educational. It was not until many years later, when his daughter Barbara decided to learn Hindi, that he discovered his own Hindi accent was actually that of the common folk, since he had learned the local dialects while playing with children on the streets.
Brian's father was transferred around India and in 1930 was stationed in Poona where he was the chief medical officer of Yerada Prison. Several times his father brought five year old Brian to visit one of his patients, an older man who would cease his writings when Brian arrived, and tell Brian stories in Hindi, and peel him sweet limes to eat. Brian did not particularly like sweet limes, they were a bit too sour for his sweet tooth, but he ate them anyway to be polite. This "old grandpa", as Brian called him, was Mahatma Gandhi.
When asked at age 90 what he learned as a five year old boy from visiting Gandhi, Brian replied "He taught me old men are people too." Brian learned from this experience; he too was a gracious man in his old age and often gave his younger visitors chocolate bars, instead of fruit, when they visited him.
Following in the footsteps of his older brothers, Brian was sent "back home" to England to get "a good education" at boarding school, Beaumont College. He appreciated his Jesuit education and remained a church goer all his life. In August 1939, at his father's insistence, his mother and the three boys left Britain by boat to India less than 1 month before war was declared. Brian had said that it was one of the very last civilian ships to leave England. He finished his schooling at North Point, Darjeeling, India, writing the Cambridge High School Certificate Examination in 1941 with multiple carbon copies. The copies would be sent back in separate ships in the hopes that at least one copy might avoid the torpedoes and make it back safely to Britain. Brian passed with distinction.
When Brian "became of age" in 1944, he enlisted first with the Sherwood Foresters and then became an officer in the First Gurkha Rifles, ending up in the 3rd Battalion in Burma just as the war was beginning to conclude. After the war, he was part of peace keeping activities in Saigon (Vietnam) and Makassar (Indonesia). In 1947 he was demobilised in Britain. His memoirs of this time, and those of his brother Paddy, are now archived with The Gurkha Museum, Winchester, England.
Brian was accepted into medical school in Edinburgh, where his father had graduated in 1917. However, because of the backlog of students, he would not be admitted for another three or four years. Brian decided to become a chartered accountant instead, as he was not willing "to continue putting his life on hold". While he was a student-in-accounts in London, England, he also moonlighted by singing in the opera chorus of Covent Garden, eventually relinquishing that activity due to lack of sleep.
In 1950 he married his soulmate Doreen Grey. After obtaining his CA, he was offered an accounting position for 1 British Pound a week, just enough to pay his train fare. Living in post-war Britain obviously was not viable, so they immigrated to Canada in 1954 with their two year old daughter, Ann.
Brian's first appointment was at Queen's University, Kingston, Ontario, as an assistant professor. He participated in a number of initiatives, some radical at the time, and some very practical. Such as the time he unwittingly put his wife Doreen in the awkward position of asking for a liquor licence for the university's business conference which, he found out later, had never been requested before. She was initially refused, until the university provided authorization on university letterhead confirming that the request was genuine and not a hoax. Another example is when Brian insisted that women's washrooms were not excluded from blue prints being designed for the new Dunning Hall building. Some of those around him thought it odd that Brian believed that one day women might also want to study business. He managed to bring around those in objection by asking what their wives were supposed to do if they were visiting the building.
In 1958 his second daughter, Barbara, was born. In 1963 the family moved to Toronto where Brian became the first Director of Education for the Ontario Institute of Chartered Accountants, supervising the profession's transition to the intake of university graduates. In 1968, with the process basically completed, Brian attended York University to obtain an MBA, and then taught at the University of Toronto until his retirement in 1986. He continued to assist other professors with financial and retirement planning advice and income tax for another twenty years.
During retirement he also did several volunteer projects in India and Sri Lanka for CESO. He learned to paint watercolours from his artist wife. They travelled to several warm locations over the years during the winter months where they continued to sketch and take photographs.
In 2013 he and Doreen moved to retirement homes in Waterloo to be closer to their grandchildren and, later, great grandchildren. He survived Covid-19 in late 2020. In 2021, he moved to the long term care facility at St Joseph's Health Care Veterans Care Program, London, Ontario, where he received excellent care for his remaining days.
He leaves his two daughters and their husbands, Ann and R. John, and Barbara and Ron, his three grandchildren and their spouses, Michael and Roxana, Christina and Justin, and Richard and Christine, as well as his five great grandchildren, Mark, Elizabeth, George, Anna and Catherine.
Visitation will be held at the Erb & Good Family Funeral Home, 171 King St. S. Waterloo, on Wednesday, February 15, 2023 from 5 – 7 p.m., with Parish Prayers to be offered at 6:45 p.m. The Mass of Christian Burial will be celebrated at St. Michael's RC Church, 80 University Ave. W., Waterloo on Thursday, February 16, 2023 at 10 a.m., with Rev. Pawel Jamroz officiating. Interment to immediately follow the mass at Parkview Cemetery, Waterloo. A reception will follow the interment in the parish hall at St. Michael's RC Church.
Condolences for the family and donations to a charity of choice in lieu of flowers, may be arranged through the funeral home at www.erbgood.com
Visitation
5:00 pm - 7:00 pm
Wednesday, February 15, 2023
Erb & Good Family Funeral Home
171 King Street South
Waterloo, Ontario, Canada
Parish Prayers at 6:45pm
Funeral Mass of Christian Burial
10:00 am
Thursday, February 16, 2023
St. Michael's RC Church
80 University Ave W.
Waterloo, Ontario, Canada
Burial
Parkview Cemetery
335 University Ave, E
Waterloo, Ontario, Canada
519-725-9280
Reception
To follow the burial at St. Michael's RC Church hall.