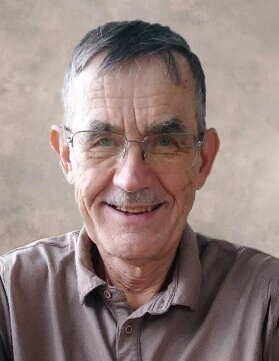 Obituary of Jan Garrit Overduin
To View the Livestream Please Click Here
Jan Overduin passed away at home in the early morning of May 3, 2023 after a brief struggle with lymphoma. He was nine days from his 80th birthday and would have been married for 60 years to the love of his life, Margaret, on August 19. Their five children were all present with him in his last days. Jan is remembered with love by his children James, Michael (Marcella), Paul (Julia), Evelyn (Pancho), and Simon (Tola), and his ten grandchildren Chloe, Sienna, Emil, Finn, Kyle, Dominic, Saskia, Liana, Tajo, and Itura.
Garrit Jan Overduin was born on May 12, 1943, in Franeker, The Netherlands (then under Nazi occupation). His father Jakobus was a church minister, an occupation long associated with the Overduin name in Holland. Jakobus and his wife Willemken had fourteen children, two of whom predeceased Jan: his beloved brother Henry and his dear sister Sonja. He is survived by eleven siblings: Dan Sr., Ludy, Mary, Dan Jr., Jack, Wilma, Martin, Hans, Nick, Pete and Liz.
In 1955, the family emigrated to Canada and settled in St. Thomas, Ontario, where Jakobus had been called to minister in the Free Reformed Church. Jan was fond of recalling that he arrived in Canada knowing no English, and within nine years was teaching English in high school, and later also German and Music. He taught at a public high school in Fonthill, at Rockway Mennonite School in Kitchener, and at the London District Christian Secondary School, before joining his longtime friend, composer and fellow organist Barrie Cabena as Professor of Music at Wilfrid Laurier University in Waterloo in 1978.
Alongside his teaching, Jan developed a national reputation as an organist and choir director. Nicknamed "Canada's youngest church organist" by his local newspaper at age 13, he earned a Master of Music degree from the University of Western Ontario, studying with Peter Hurford. He won the Healey Willan Prize in 1963 and received a Canada Council grant to study with Marie-Claire Alain and Jean Langlais in Paris in 1969. He won prizes at the Flanders International Organ Competition in Belgium in 1970 and St. Alban's International Organ Competition 1973, and toured more than fifteen times in Europe as well as Taiwan. He released six CDs in collaboration with trumpeter Erik Schultz and recorder player Matthew Jones and recorded a solo album on the historic Riepp organ in Ottobeuren, Germany. He published two books, Improvisation for Organists (1998) and Bach's Kunst der Fuge (2001). He founded the Niagara Chamber Choir and conducted the Menno Singers and Mennonite Mass Choir for many years. He served as director of music at St. Matthew's Lutheran Church in Kitchener and First United Church in Waterloo. Jan stepped down as Chair of the Organ and Church Music Department at Wilfrid Laurier University in 2003 and was honoured with a Lifetime Achievement Award from Waterloo Region in 2005, but never really retired. His multimedia recital "Quest for Discovery" at First United in 2007 drew large audiences. In 2018 he was invited to Pitea, Sweden to perform the world premiere of Fantasia Apocalyptica by friend and renowned computer scientist Donald Knuth.
That same year, Jan suffered a massive stroke that totally paralyzed his left side. With the help of his loving family and supportive community, he fought back and learned to play all over again. In this and many other ways, he was an inspiration to all who knew him. Beside music and family, he found his greatest happiness in nature. He loved camping, canoeing, bicycling and hiking. He and Margaret were "End-to-Enders" on the Bruce Trail. He lived a full and good life.
The funeral service will be held at First United Church, 16 William St. W.,Waterloo at 11 am on Saturday, May 13, 2023. The service will be livestreamed and the link will be found on Jan's obituary page of the funeral home's website www.erbgood.com. In place of a visitation, all are welcome to attend a video tribute celebration of Jan's life in the sanctuary of the church from 10-10:50 a.m which will also be livestreamed. A reception will follow the service in Hilliard Hall, First United Church." There will be an interment at Mannheim Mennonite Church Cemetery at 3 pm.
Condolences for the family and donations to the Kitchener-Waterloo Philharmonic Choir and Mennonite Central Committee may be arranged through the Erb & Good Family Funeral Home, 519-745-8445 or www.erbgood.com
Celebration of Life
10:00 am - 10:45 am
Saturday, May 13, 2023
First United Church
16 William Street West
Waterloo, Ontario, Canada
519-745-8487
Funeral Service
11:00 am - 12:00 pm
Saturday, May 13, 2023
First United Church
16 William Street West
Waterloo, Ontario, Canada
519-745-8487
Interment
3:00 pm - 3:30 pm
Saturday, May 13, 2023
Mannheim Mennonite Cemetery
1494 Bleams Road
Petersburg, Ontario, Canada