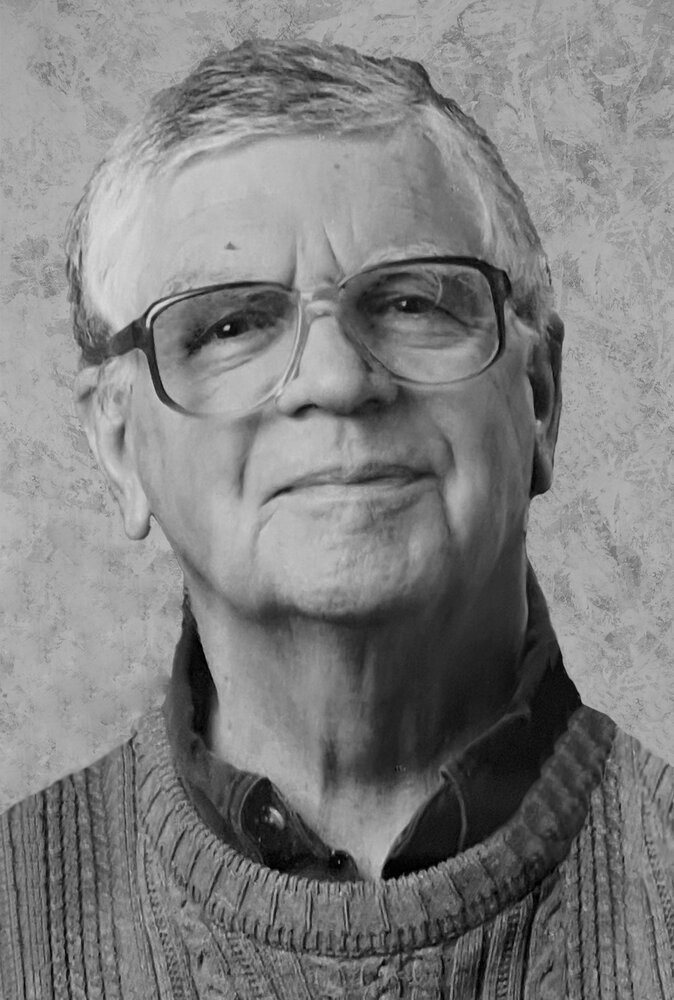 Share Your Memory of
E Palmer


Obituary of E Palmer Patterson II
Dr. E Palmer Patterson II - husband, father, scholar and professor passed away peacefully surrounded by his children at the Cook Family Residence at Hospice Waterloo Region in Waterloo, Ontario on May 17, 2023, due to complications from COVID-19. He was predeceased by his beloved wife Nancy-Lou (née Gellermann).
Palmer was born in New Orleans, Louisiana on August 18, 1927 to Jess Margaret (née Wood) and Edward Palmer Patterson. He graduated from Warren Easton High School at 16, and, after a stint at Mississippi College in Clinton, Mississippi, switched to Baylor University in Waco, Texas. While at Baylor, he was drafted into the army at Fort Smith, Arkansas, and trained at Camp Polk, Louisiana. Upon his discharge in 1947, he returned to Baylor and graduated with a BA in History in 1948. He spent a year at the University of Colorado at Boulder studying Anthropology, moving to the University of Washington in Seattle in 1949. There Palmer met Nancy-Lou. He was, in her words, "the most beautiful boy I had ever seen". They were married six weeks later, in June 1951, and decamped immediately to Lawrence, Kansas where Palmer did his Masters in History at the University of Kansas. They returned to Seattle, and he began his doctorate in History, writing his thesis on the life and work of Squamish Nation activist Andrew Paull, while working nights at the post office, and later teaching at Lakeside School, to support his young family.
In 1962, Palmer completed his PhD and took a teaching position at St. Jerome College at the University of Waterloo, crossing the creek to the University of Waterloo in 1964. In 1972, he made history of his own with the publication of "The Canadian Indian: A History Since 1500" which was the first comprehensive academic history of Indigenous peoples of Canada. Later, his work focussed on the interaction of European missionaries with the people of the Nisga'a Nation.
Palmer retired in 1992 and spent the next three decades pursuing his private studies of early Christianity, Anarchism, Black history, Roman literature, and the history of the American South. He had a gentle dry humour, underpinned always by love and generosity. He was philanthropic in the extreme, being audited several times because his charitable contributions strained credulity. He loved red beans and rice, pineapple upside down cake, cannoli, shortbread, vanilla ice cream and sunflowers. He looked fantastic in seersucker. Asked by his daughter how she might live a life like his, he said, "Read a good book, and go to church." He lived his own life entirely in accordance with his ideals.
Palmer's partner in everything was Nancy-Lou. Together, they created a family of nine children: Jennifer and Samantha (Larry Vaughn), both of whom predeceased him; Barbara (Shawn Lyons); Dolores; Francesca (Peter Rozee); Emmanuel (Julie Thompson); Patrick; Melanie (Steve Wawryk); and Jordan, and twenty-one grandchildren: Elizabeth who predeceased him; Donovan, Shaughnessy, Anastasia, Craig and Drew; Kathleen and Nicholas; Clara, Maud and Honor; Ava and Gillian; Samuel, Palmer and Violet; Roman, Magnus and Eben; and Crystal and Maya, as well as several great-grandchildren. Palmer is survived by his brother Benton and was predeceased by his brother Morgan.
The family would like to thank the caring staff at Luther Village, Waterloo.
His funeral service will be held on Tuesday June 27, 2023, at 11 a.m. at St. Columba Anglican Church, 250 Lincoln Road, Waterloo. Private interment of ashes to follow at the Mount Hope Campus of the Pattersonian Institute. In lieu of flowers, donations can be made to St. John's Kitchen at The Working Centre in Kitchener through www.erbgood.com. Condolences for the family can also be made through we www.erbgood.com.
Funeral Service
11:00 am
Tuesday, June 27, 2023
St. Columba Anglican Church
250 Lincoln Road
Waterloo, Ontario, Canada

Get Directions