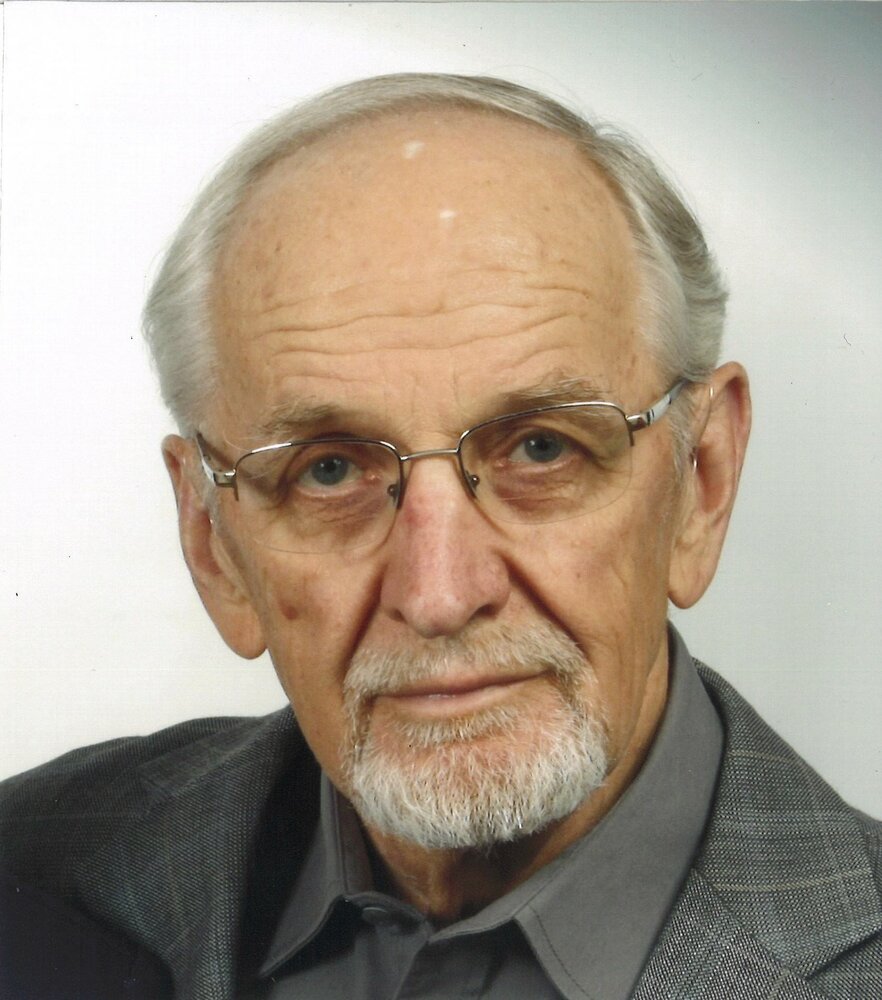 Share Your Memory of
Archie


Obituary of Archie Arkadius Harms
Archie was born on 18 April 1934, to Paul and Wilhelmina Harms, in the town of Nowy Dwor, Poland. He was the younger of two sons.
At age five, Archie observed the beginning of WWII and four years later he heard the cannon fire of the rapidly reversing eastern front. His mother and her two sons Gerhard and Arkadius fled west in 1944 while his father, at age 46, had to remain and was never heard from again.
After a year of repeated relocations in central Germany with many nights in bomb shelters, his family of three found relative calm in Bavaria as WWII ended in 1945. Archie's mother was then able to contact her two brothers who had emigrated to Canada in the 1930s. In 1948, the family settled near Abbotsford, B.C. and Arkadius - which in Canada became Archie - was then placed in public school. Even though he excelled in all class tests, it was decided to terminate his formal schooling after grade 8 in order for him to learn the trade of cabinetry and millwork.
In the mid-1950s, Archie and Ursula met, and were married in 1957. Two years later, he enrolled at the University of British Columbia to study physics and mathematics. Trudy was born and later Dolores arrived. Upon graduation from UBC, Archie worked in hydrology and, two years later, the family moved to Seattle for Archie to pursue scholarship-funded graduate studies at the University of Washington. During this time Ted was born. Following completion of his doctoral work in 1969, Archie accepted a faculty appointment in Engineering Physics at McMaster University, Hamilton, Ontario.
Ancaster, a quiet and wooded suburb of Hamilton, became a home base for the next 40 years. Many happy family events provided fond memories. Archie and Ursula watched their three children mature, proceed to university, enter into marriage, and – as most precious events – welcomed five adorable grandchildren: Angela, Nicholas, Daniel, Julie and Allison. In subsequent years, Archie was often seen building children's tree houses, erecting sturdy outdoor swings, and engaging in various small home renovation projects for family. During these 40 years, Ursula and Archie were very active at Hamilton Mennonite Church.
For Archie, the McMaster University context provided for a satisfying and productive career of teaching, developing new courses, and directing graduate students. His research was focused upon evolving nuclear science and energy systems, and he engaged in consulting and overseas lecturing. He also served on several UN technical assessment committees, published five university textbooks, supervised 40 graduate theses/dissertations and contributed to 200 research publications.
When retirement beckoned, Archie and Ursula ventured into RVing. With a motorhome and tow-vehicle, they crisscrossed North America seasonally for 18 years. National parks, natural attractions (including the Arctic Circle and Labrador), and heritage sites (cliff dwellings, pioneer reconstructions, pueblos, Viking settlements, etc.), as well as visiting kin and friends, were common destinations. Winters were generally spent in Florida. They moved to Waterloo in 2010 to be nearer to children and grandchildren and joined Waterloo North Mennonite Church.
In 2016, just before her 80th birthday, cancer ended Ursula's blessed life. Archie died peacefully on July 28, 2023.
Archie and Ursula often reflected upon their family life and friends, as well as the natural richness of North America, as many occasions to count their blessings.
Visitation is scheduled for Saturday Aug. 19, 2pm - 4pm in the Great Hall at Luther Village on the Park, 139 Father David Bauer Dr., Waterloo. A celebration of life will take place on Sunday Aug. 20 at 2pm at Waterloo North Mennonite Church, 100 Benjamin Rd., Waterloo. In lieu of flowers, a donation to the world relief work of Mennonite Central Committee would be most welcome.
A livestream to the funeral service is available by clicking here
Visitation
2:00 pm - 4:00 pm
Saturday, August 19, 2023
Great Hall - Luther Village on the Park
139-141 Father David Bauer Drive
Waterloo, Ontario, Canada

Get Directions
Celebration of Life
2:00 pm
Sunday, August 20, 2023
Waterloo North Mennonite Church
100 Benjamin Road (at Weber St.N.)
Waterloo, Ontario, Canada

Get Directions