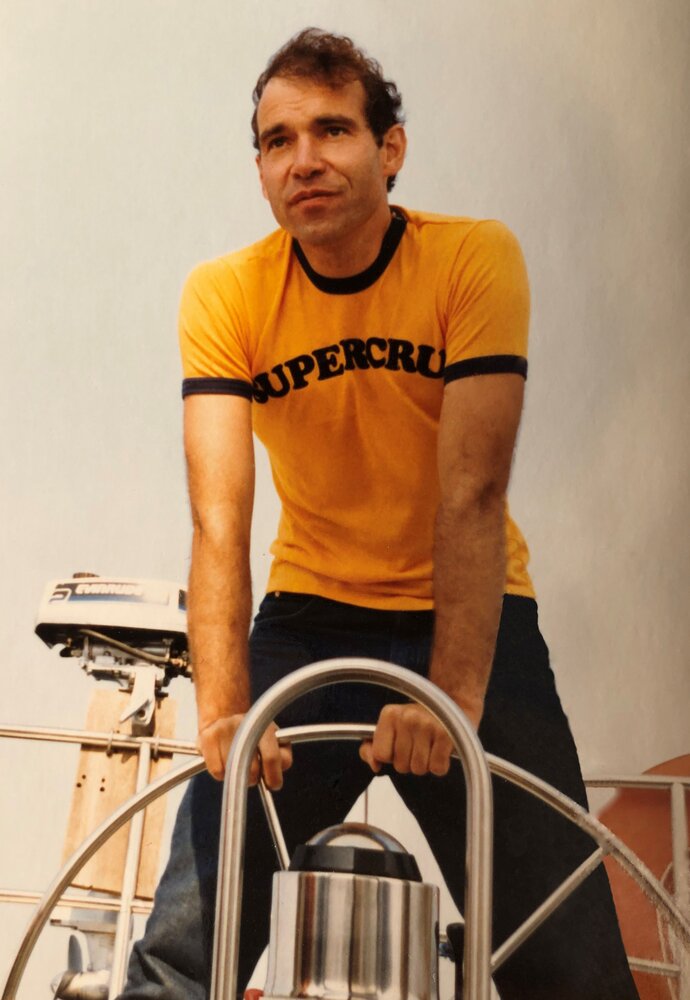 Share Your Memory of
Dr. David


Obituary of Dr. David E. Gingrich
Dr. David Ernest Gingrich was born Monday February 5, 1940, in Waterloo Township, Ontario, and died peacefully with family by his side on Wednesday August 30, 2023, in Waterloo. In the intervening 83 years, David did – as he often said – everything he wanted to do in life.
David was a loving and fun-loving father and grandfather. He was a devoted family doctor in Cambridge, Ontario. He was a man of faith. He was a lover of music, from the Renaissance to Elvis (especially Elvis). He was a bit of a ham.
And while home was never far from Waterloo, he was a traveller. He saw the world on bikes, skis, motorcycles, boats, snow cats, tractors, roller skates, windsurfers – whatever conveyance would bring him and his companions adventure and joy.
David grew up in St. Jacobs, Ontario, the son of Mary and Freeman Gingrich and the brother of Raymond, Ronald and Kathleen. He fondly recalled riding in the cheese truck as his dad, a cheese merchant, made his rounds to local farms.
One of the first things David wanted to do in life was to be a doctor.
After graduating from medical school at Western University in 1965, David completed a one-year internship at St. Joseph's Hospital in Toronto, then a two-year residency in Family Medicine in Flint, Michigan, before beginning his family practice in Cambridge.
David met Judith Anne Rau while in medical school. Annette was born to David and Judy in 1969, and Sarah followed in 1973. David loved his daughters deeply and, with Judy, imbued them with a sense of community service, responsibility, curiosity and adventure.
He loved practising medicine. He, along with fellow doctors Bill Fraser and Gary Gibson, created Grandview Medical Centre in Cambridge, the first clinic of its kind in the area. He adored delivering babies and helping kids – and he also made a point of making house calls, especially for his elderly patients.
David wanted to see the world. He and his family enjoyed travelling and took many wonderful trips to France, Italy, Baffin Island, Mexico, the Caribbean and other points all across Canada and the U.S. He volunteered to provide medical and other help in Central America, once with Sarah by his side in Guatemala. Another year, he and Annette bicycled through Cuba.
He was an avid scuba diver, a sailor, a windsurfer, and a serious skier unafraid of dropping down disturbingly steep mountain pitches.
In the Selkirk Mountains in British Columbia, where he took annual backcountry cat skiing trips, there's a run that Selkirk Mountain Lodge christened "Dr. Dave's Yard Sale" for reasons you can probably imagine. It's known as "Dr. Dave's" to this day.
He loved to sail, whether it was on a small boat at the cottage or on big water. One of the biggest thrills of his life was going as a crew member to help sail a friend's boat back from the Caribbean to the Northeast coast of the U.S. Another sailing exploit was sheltering in place on a small island during a hurricane – which he considered a highlight.
David wanted to live in the country and raise cows, so the family built a house on 30 beautiful acres in North Dumfries Township. It was complete with a barn, cows, chickens and a swimming pool constructed in Dave's signature style: made of concrete and extremely overbuilt. Living in the country came with challenges for David, Judy and the girls – herding escaped cows back to the pasture on the way to work, plowing the lane after blizzards, keeping the family dogs out of the chicken coop (mostly) – but also brought many moments of great joy.
David wanted to sing. He sang seriously as a member of the Renaissance Singers, with whom he toured England, and as a member of the choir at Doon Presbyterian Church after moving from Cambridge to Kitchener. He sang not so seriously when Elvis came on, or just whenever he felt like breaking into song. Later in life, when David lost the ability to speak, he sometimes communicated his love with a small song and a warm smile.
David always wanted to smile and make others smile too. He revelled in being a bit quirky. He loved to write and perform skits. He surprised his fellow med students when he performed as a chiropractor, complete with a self-designed and built machine that had flashing lights for the infamous Tachycardia show the students put on every year. More skits followed for the skiers at Selkirk Mountain Lodge and occasionally as part of social events with his fellow medical practitioners. When David retired from family practice, his colleagues presented him with a beautiful sculpture of a dancing bear – a gift that said so much about David.
David's warm smile will be missed by many, including Judy; his daughter Annette Gingrich and son-in-law Jimmy Moloney; and his daughter Sarah Gingrich, son-in-law Boyd Erman and loving grandkids Leo and Julia Erman.
David's family would also like to say thank you to all the caring staff who looked after him at Parkwood Mennonite Home. Special thanks to Jon and Marsha, his personal support workers, and to occupational therapist Amber, for all you did.
One thing David didn't want was a funeral service. Instead, the family asks all those who knew and loved him to think of him fondly when they can, and to consider a donation to Doctors Without Borders in his memory. Donations may be arranged through the Erb & Good Family Funeral Home, 171 King Street S., Waterloo, at www.erbgood.com .

Our love for David will live on. As will our memories. And anything he ever built out of concrete.