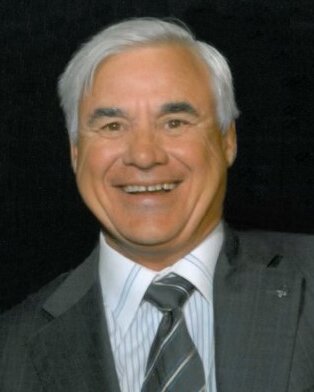 Obituary of Ian MacNaughton
Ian MacNaughton
February 18, 1944- October 7, 2023

Ian passed away peacefully on Saturday October 7, 2023, surrounded by the love of his family. He was 79 years of age. He is survived by his wife Sandra (Hoffman) and children Jonathan (Kendra) of Waterloo, Jill MacNaughton (John Lute), Johanna Booth of Toronto and Josh of Kitchener. Jean MacNaughton, his sister of Dunnville also survives him.
He was a proud "Gramps", Grandpa of 11 dear grandkids: Charlie, Addie, Frankie, Fin, Sam, Emma, Max, Ella, Georgia, Nora and Ben. Predeceased by his mother Ina (Purvis), father Charles Fraser MacNaughton and brother Jim MacNaughton.
Ian was one of the first to graduate from the University of Waterloo's Urban and Regional planning program and then went on to obtain his MA in Regional Planning and Resource Development. He founded MHBC Planning 50 years ago where he was a mentor to many young planning school graduates. Ian was inducted as a Fellow of the Canadian Institute of Planners in recognition for making an outstanding contribution to planning.
Foremost however, he was a businessman and problem solver who saw the big picture and had a passion and fierce commitment for making things better. Ian was active in service to the community both locally and provincially. He helped prepare the Niagara Escarpment Plan and was central to establishing Canada's first ever environmental Advisory Committee. He also helped set provincial policies for environmental protection in the gravel industry. He was a member of the Grand River Conservation Foundation as well as Ontario's Greenbelt Task Force and the University of Waterloo's planner in residence. Closer to home as a member of the Breslau Park and Recreation Association, he was instrumental in obtaining park land for the Breslau community.
Ian enjoyed golfing with his buddies, skiing with friends and family and fishing with his golden boy Chauncey. Best of all he loved driving his garden tractor with a trailer full of grandkids and a pack of dogs running alongside.
Cremation has taken place. A private family Celebration of Ian's Life will be held at a later date.
Online condolences to family and donations to The Working Centre may be made through Erb & Good Family Funeral Home www.erbgood.com